Split My Fare App
Get the cheapest train tickets on your phone
The Split My Fare App has everything you need for a smooth, cheap train journey:
A quick and easy booking process
e-Tickets downloadable to your phone and digital wallet
Access to bookings while offline
Huge savings of up to 90% with split tickets
Find the Cheapest Fares Quickly
Want to get the cheapest train fares as fast as possible? The Split My Fare App provides huge split ticket savings of up to 90% with an easy-to-use and simple booking process that takes you from searching for journeys to checkout in no time at all.
Everything is clearly explained, so you know exactly what train you are getting when you search, what tickets you are using, and the savings you are making.
With fares covering all train companies you can be sure to get to where you want to go. Along with cheaper split tickets, you have access to various flexible and advance fares.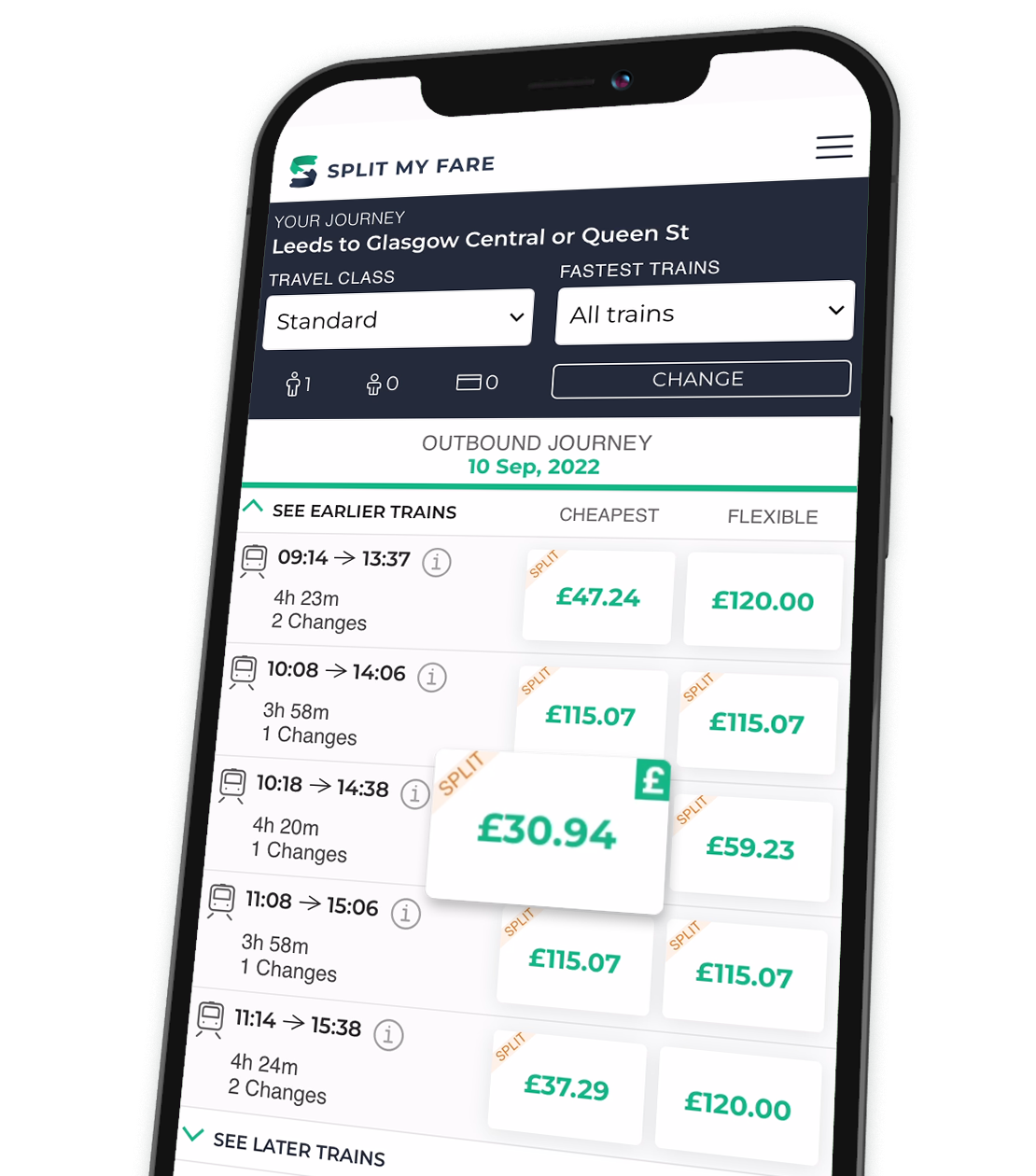 E-Tickets on Your Phone
To make your train journey as smooth as possible, book an e-Ticket through the Split My Fare App. You can download your ticket straight to your mobile to avoid spending time printing multiple paper tickets and seat reservations.
Scan your e-Tickets through the barriers for contactless travel, if you have split tickets, you can simply show these to the conductor from one file. If you're taking multiple trains across the UK, it will be much easier to access your tickets through the App than have a collection of different paper tickets.
All of your bookings are stored in the mobile train App, and you can add them to your Google and Apple Wallet too. e-Tickets are available for use with most train companies in the UK. When you're offline, you can still view the details of your journey and access your e-Tickets.
Save Up to 90% with Split Tickets
With Split Ticketing, you can make huge savings on your rail journey. Our App clearly shows split fares and the savings you can make.
We often find the cheapest rail fares around for your search, coming out cheaper than the Trainline on all 15 journeys we tested. With e-Tickets, the hassle of showing multiple split tickets is also removed.
Fast and Secure Payments
The Split My Fare App features a payment system with a quick and simple payment process that also keeps your information secure. You can save your card information to use when making future bookings for trains to save you from having to enter your information again. Your payments will be authorised, and you can pay with Apple Pay or Google Pay for an even quicker payment experience.
No Booking or Card Fees
Some train ticket retailers charge booking and card fees on your rail journey, increasing the cost of your rail travel. With the Split My Fare App, you don't have to worry about paying these fees, so you will often find the cheapest fares available with us.
Which Train Ticket App Should You Use?
There are other Apps available from the Trainline and National Rail.
The Trainline App features SplitSave, which also finds savings through split ticketing. However, in a comparison carried out by Money Saving Expert*, they found that Split My Fare typically offers lower prices. Trainline.com didn't work out cheaper than its rivals on any of the 15 popular journeys searched.
The National Rail App is also very popular for booking rail travel; it does not feature split ticketing, so you will find the Split My Fare App will normally always be cheaper than National Rail.
*https://www.moneysavingexpert.com/travel/cheap-train-tickets/
Frequently Asked Questions
How do I download the Split My Fare app?
Our App can be downloaded from the Google Play Store for Android and the App store for iOS. Use the Google Play Store and App Store links on this page or simply search on the stores yourself.
How much will the app cost to download?
The Split My Fare App is free to download from the Apple App Store and Google Play Store.
Can I show my train ticket on my phone?
You can show your train ticket from your phone using an e-Ticket download to your phone or by adding your ticket to the Google or Apple Wallet.
How to book train tickets with the Split My Fare app?
The process to book your train tickets with the Split My Fare App is quick and easy. Search for your journey, select your seat and collection preferences, pay using our secure and fast payment system, and checkout.
Can a friend buy me a train ticket from the app?
Yes, if a friend buys you a train ticket from the Split My Fare App they can either forward the e-Ticket they receive to you or if you prefer to collect your ticket they only need to provide you with the booking reference and you can collect with any card.