London Victoria Station, situated in the City of Westminster, is the second busiest station in the UK, with 73 million passengers exiting and entering the station in 2019/20. London Victoria Underground Station is connected to the central station, and London Victoria Coach Station is nearby.
Two different termini separate the mainline station, one offering Southeastern services and also being the London terminus for the Orient Express and the other offering Southern and Gatwick Express services.
From London Victoria, there are direct trains to numerous destinations, including Gatwick Airport, Brighton, and Dover.
Station Area Map
London Victoria Station is in the City of Westminster just south of Buckingham Palace. The station is a great location for tourists to arrive in Central London, with Big Ben, the Imperial War Museums, and the London Eye all within walking distance.
London Victoria comprises two separate railway stations, the grey stone South Eastern and Chatham station made of grey stone, and the red brick Brighton Station. The two buildings were joined following the creation of the Southern Railway in 1923.
From London Victoria Station trains travel to Kent, along the south coast, and to Gatwick Airport on the Gatwick Express. The other two operators running services from London Victoria Station are Southeastern and Southern.
Station Details and Facilities
Address:
London Victoria Station, Victoria Street, London SW1E 5ND
General Information
Station Opening Hours:
Monday to Sunday 04:00 - 00:45
On Friday and Saturday, there are 3 night trains at 01:10, 02:10 and 03:10. London Victoria Station opens 15 mins before each train departs. Once the train leaves, the station then closes.
General station enquiries: 03457 11 41 41
Ticket Buying and Collection
Book your tickets for travel from London Victoria Station with Split My Fare. You can receive e-Tickets at your e-mail address, collect them from a ticket machine, or visit the London Victoria Station ticket office.
Passenger services
There are help points on the main concourses, open from Monday - Sunday 07:00 - 21:00.
You can reach Customer Services via the Network Rail reception, open from Monday - Sunday 07:00 - 21:50
Station Facilities
ATMs: Situated at 3 different locations, on the Eastern Concourse (Platform 1), the Central Concourse (Platform 7), and in the Grosvenor Hotel.
Telephones: On the main concourse.
Food & Drink: Coffee Shops, Coffee Kiosks, a Pub, and several food outlets.
Shops: Inside the station, there is a Newsagent, Flower Stall, Hairdresser, Shoe Repair shop, Pharmacy, small Supermarket, and a Photo Booth.
Baby Changing Facilities: In the Female and Male toilets.
Tourist Information Office: In the Transport Information Centre.
Car Hire: Sixt has an office in the Car Park.
Lost Property: Items handed in at the station are kept in the left luggage office, open from Monday - Friday 09:00 - 17:00.
Accessibility
There is step-free access to the London Underground Victoria Line; you can access this via the Cardinal Place entrance.
There is step-free access to the station from Hudson Place, Victoria St, Grosvenor Gardens, Terminus Place, and Wilton Rd.
Wheelchairs are available 24 hours a day, 7 days a week.
Accessible toilets are located on the central concourse on the station's Southern/Gatwick Express side.
There are 5 Blue Badge parking spaces in the car park on Eccleston Bridge Rd.
There are ramps available for access to trains.
Passenger assistance is available 24 hours a day, 7 days a week.
Ticket office
The ticket office at London Victoria Station is on the main concourse and is open Monday - Sunday 06:30 - 22:00.
Toilets
Found on the central concourse and adjacent to Platform 2.
WiFi
Public WiFi is available; search for BT WiFi in the station.
Parking
There are long and short stay car parks.
There are three vehicle charging points near the entrance to the car park.
Bicycle Facilities
Bicycles can be left at the front of the station and upper-level entrance in Victoria Place, above platforms 13/14. These areas are very secure with CCTV and protected from the rain with cover.
Replacement Bus Services
Replacement buses depart from in front of the station and are usually provided by London Buses.
London Victoria Tube Map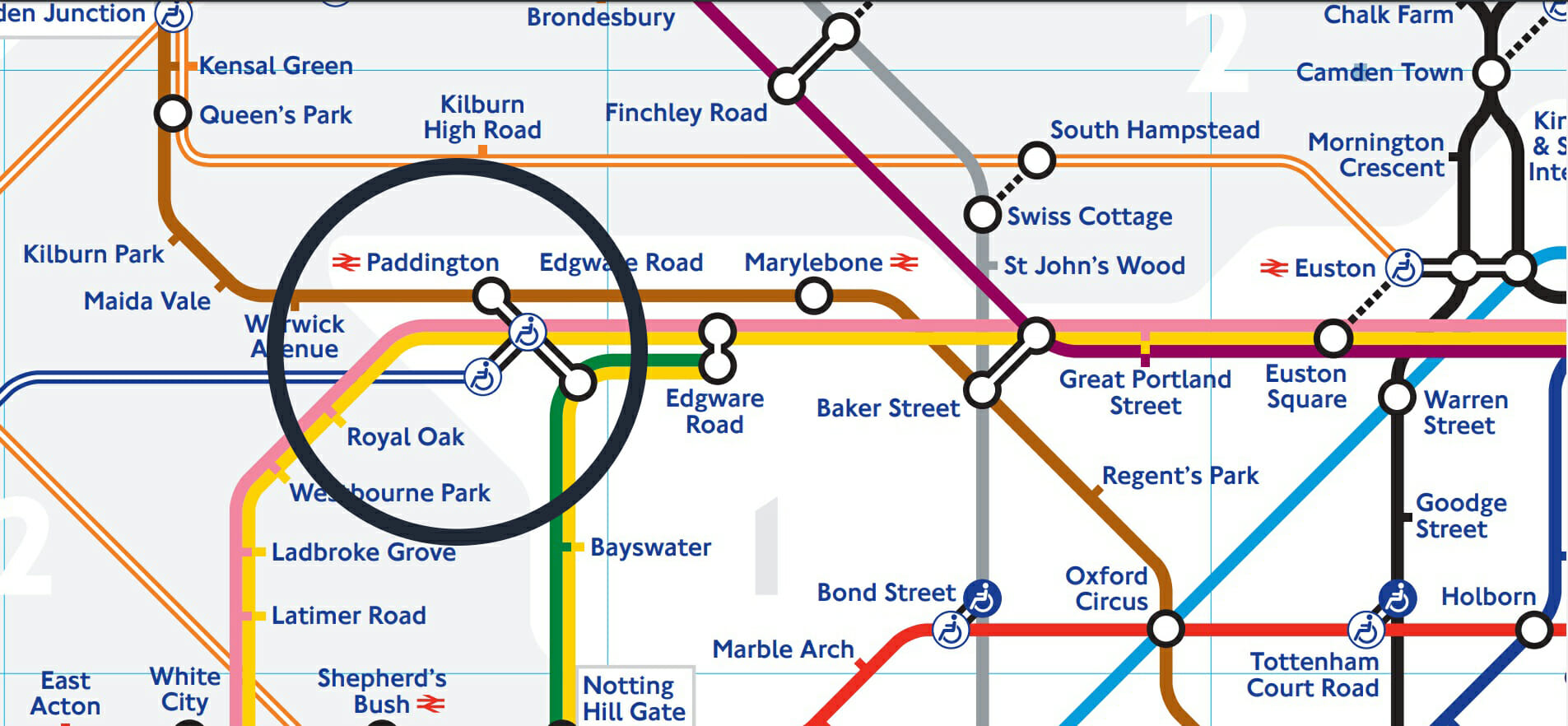 Frequently Asked Questions
What Tube line is London Victoria Station on?
London Victoria Underground Station is on the District, Circle, and Victoria Lines.
Which zone is London Victoria?
London Victoria Station is in Zone 1.
Is London Victoria station open 24 hours?
London Victoria Station is open 24 hours a day, 7 days a week. If you arrive to the station by taxi, these doors are open from 03:15 - 00:45.
Where can you go from Victoria Station?
Trains from London Victoria Station go to numerous destinations across the South of England and South East of England including Dover, Brighton, and Gatwick Airport. These services are operated by Southern, South Eastern, and Gatwick Express.
Why is it called Victoria Station?
Victoria Station is named after Victoria Street located nearby. The street got this name prior to Queen Victoria taking the throne.
Is there a toilet in Victoria Station?
Toilets can be found in Victoria Station on the central concourse and adjacent to Platform 2.
Are the toilets at London Victoria free?
The toilets at London Victoria are free of charge.