Cheap Train Tickets
Get the best ticket prices with our split ticket search
How can we help you find cheap train tickets?
The main reason customers use our site is that we find them the cheapest train tickets. We specialise in finding split tickets, which offer savings of up to 90% off your fare, getting you cheap train tickets is something we are pretty good at.

The best way to book cheap train tickets is by splitting your ticket. By purchasing tickets for your journey in multiple parts but still travelling on the same train, you can make huge savings. The only condition with split ticketing is that the train must stop at all stations where your tickets change. Split ticketing is a handy trick, considering the rise in the costs of rail transport.
Find the cheapest train tickets online using Split My Fare...
When using our site to buy tickets, we will automatically search for the cheapest split ticket, so you reach your destination for the lowest price possible.
The site is easy to use; you can save a lot of money with our booking engine following the simple steps below:
1. Enter the dates and times for your travel. Usually, you can purchase cheaper Advance Tickets up to 12 weeks in advance of your journey.
2. Enter the station you are departing from and the station of arrival.
3. Enter the details of how many passengers are taking the journey. If you're travelling as a group of at least three passengers, you can save up to 34% with a GroupSave discount.
4. Add your Railcard. If you don't have a Railcard and travel regularly, we highly recommend getting one as it can save you up to 34% on your journey. If you're making your rail trip as a family of up to four adults and four children, there is up to 90% saving off children's fares with a Family & Friends Railcard.
5. Book your journey.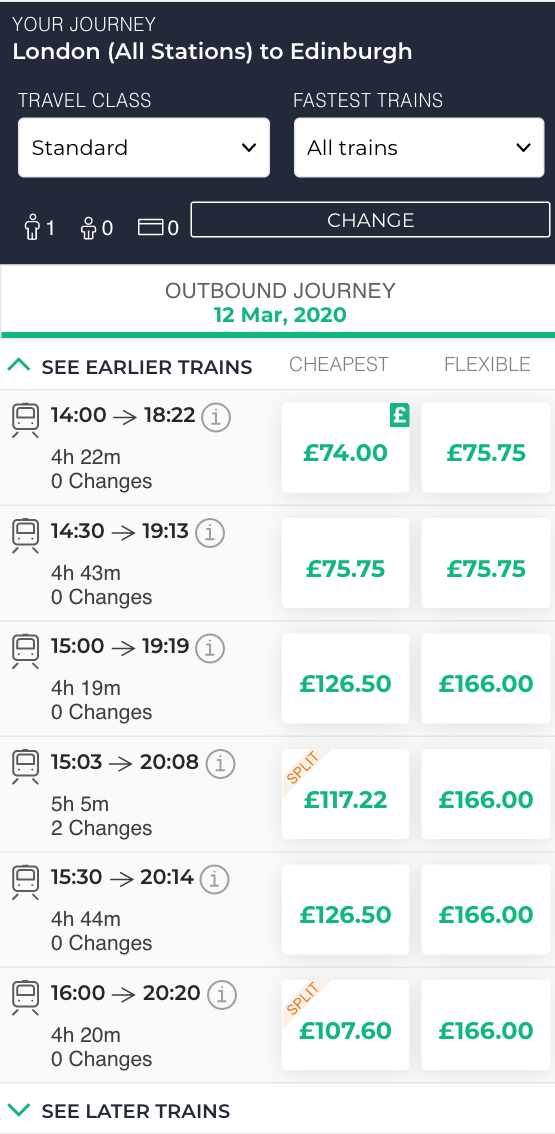 How to get cheap train tickets?
Along with splitting your ticket, there are many other ways to find cheap train tickets, from booking early, travelling during quieter hours, and finding railcard discounts. You will find many useful tips and tricks for ways to save money in the below guide.
---
1. Book early to get cheaper advance tickets
Of the different ticket types, you will find Advance fares are usually much cheaper than flexible tickets. As long as you're happy to travel at a fixed time, we recommend you book Advance Fares to get a cheap train ticket. Advance tickets are typically made available 12 weeks before the date of travel. We advise booking your train tickets early as they can often sell out due to high demand, they are subject to availability. If you can't book until the day of travel, Advance Fares may be available up to an hour before you leave; it can still be worth checking at the latest possible point. To get a more significant saving, combine your advance ticket with a railcard.
2. Travel at off-peak rather than peak times
Suppose no advance fares are available, or you want flexibility when you travel. In that case, the cheapest train tickets are available when you travel during off-peak rather than peak times. Quieter off-peak periods are usually between 10 am and 4 pm, and after 7 pm, it can be worth travelling earlier or later than planned. Be careful, if a portion of your journey is leaving during a peak period, you might pay a peak price for the whole trip. Some train operators provide super off-peak tickets, which can be even cheaper.
3. Compare the price of single and return tickets
If you're taking a round trip and looking for a way to get cheap train tickets, compare the difference in price between a return ticket and two single tickets. At SplitMyFare, we automatically work out the best combination to ensure you get the cheapest tickets.
4. Save money when travelling as a group by booking together
If you are making your journey by rail in a group of 3 to 9 passengers you can get cheap train tickets with 1/3 off routes at off-peak times when tickets are all booked together. We automatically apply the discount when you book with SplitMyFare if it is available for your journey. GroupSave discount is not available with every operator, so it is worth checking this in advance. You must purchase all tickets in a single booking to get the saving and all passengers must travel on the same train.
5. Be flexible about when you travel
Suppose you don't need to travel on a specific day at a particular time. In that case, it can be worth comparing differences in prices across alternative dates and times to save money. Avoid travel at weekends where possible, increased demand at these times can mean higher prices. If possible, we recommend taking the train at off-peak times during the week, outside of holiday time.
6. Use a Railcard
If you regularly travel by rail or only take a few train journeys a year, getting and using a Railcard can make you significant savings. Sometimes you can get Railcards for free, for example, if you open a bank account. Railcards are available to buy from £20 per year or £70 for three years. Some of the Railcards available include:
16-25 Railcard
For those aged 16-25, or mature students aged 26 or over, this Railcard is available to buy for £30 per year or £70 over three years. Save 1/3 off most rail fares, with an annual average discount of £199. Railcard has links to other companies; additional discounts are available on days out, holidays, and shops.
Two Together Railcard
If there is someone you regularly travel with it is worth getting the Two Together Railcard. You could get it for a friend as a present. Any two named people aged 16 or over travelling with each other can use it, you can save 1/3 off most train fares, it is available for £30 per year. Other Railcards available include the Disabled Railcard. Network Railcard, Gold Card and 16-17 Saver.
26-30 Railcard
The 26-30 or "Millennial" Railcard is for those aged 26-30. It costs £30 per year and saves 1/3 on most rail fares across Britain.
Senior Railcard
This Railcard is for senior citizens aged 60 and over. You can save 1/3 off most train tickets, and it only costs £30 per year or £70 over 3 years. The average annual reduction with the over 60s card is £125, and additional discounts are available with railcard partners.
7. Use a 16-25 or 26-30 Railcard, even when you're older
There is a way to 16-25 and 25-30 Railcard can still be valid, even if you're outside the age range at 26 or 31. Make sure to purchase or renew your 16-25 Railcard a day before your 24th Birthday, if you're buying a 3-year railcard, or buy it the day before your 26th Birthday if you're getting a 1-year Railcard.
The same trick can be used with the 25-30 Railcard, while these are only yearly you could renew or purchase a 25-30 Railcard on the day before your 31st Birthday.
8. Avoid paying booking and credit card fees
Some sites charge booking fees for every journey you make. The trainline, for example, charges up to £1.50 per transaction. SplitMyFare charges no booking or credit card fees, we only charge 10% of any saving made when splitting your ticket. If you don't save money, you won't pay a fee.
9. Avoid busy stations
Train ticket prices are based on demand, it is easier to find cheap train fares if you choose a route that doesn't end at a busy, city station. If you can avoid travelling via busy city centre stations, you can find cheap trains to less popular destinations nearby.
10. Look at 1st class tickets
Sometimes it can be the case that first-class fares can be similarly priced or even cheaper than standard fares. If not many first-class tickets have been sold their price may be vastly reduced, so you can travel in style at a lower cost.
11. Get refunds when you're entitled to them
With a scheme called Delay Repay, you can claim refunds if there is a delay in the service of your journey, whether it's due to weather conditions, or anything else. The delay times entitled to compensation vary between operators, so it is worth giving their rules and terms a read but you may be able to receive compensation if your journey has been delayed by as little as 15 minutes. You can apply for this refund through the Train Operating Company for your journey.
Frequently Asked Questions
When are cheap train tickets available?
Cheap train tickets, specifically advance tickets are made available up to 12 weeks before your departure date.
How do I find cheap train tickets?
You can find cheap train tickets by splitting your fare with us, saving up to 90%.
When are cheaper train tickets made available?
Cheaper train tickets are released 12 weeks before departure when booking advance fares.
Why are trains so expensive in England?
Trains are expensive in England because the Train Operators are owned by private companies looking to make a profit. Rail fares have increased year on year.
Is it cheaper to buy train tickets online?
It is much cheaper to buy train tickets online rather than at the ticket office, as you will normally only get pricier walk-up fares here.
This site was simple to use and significantly cheaper. It makes travelling affordable.
The best prices, great customer service, quick responses. Highly recommended.
Since finding Split My Fare, my journeys are now half as expensive, meaning I can travel twice as much; I used to spend upwards of £200 each time for tickets! The detailed confirmation email is like a written sat-nav, which is a godsend. I will never use anyone else for tickets.