The biggest ticket retailer in the UK is Trainline, but this doesn't necessarily mean you should be using them for your next trip. In this guide, we look at the advantages and disadvantages of each and assess which is the better option for booking your tickets.
Comparing Prices on Trainline vs Split My Fare
In a comparison carried out by Money Saving Expert*, they found that Split My Fare typically offers lower prices. Trainline.com didn't work out cheaper than its rivals on any of the 15 popular journeys searched.
A big reason we tend to be cheaper is that they charge a booking fee of £1.50 on most journeys, regardless of whether a saving has been made or not for your chosen date. Similarly, when we compared the prices of 10 popular journeys leaving at the same time, Split My Fare provided cheaper tickets than the Trainline on all 10.
We don't display any adverts to customers, whereas they show you adverts which may distract you from booking your travel.
*www.moneysavingexpert.com/travel/cheap-train-tickets
| From | To | Trainline | Split My Fare |
| --- | --- | --- | --- |
| Birmingham New Street | Newcastle | £91.85 | £81.37 |
| Leeds | Coventry | £69.35 | £33.31 |
| Manchester Piccadilly | Derby | £23.65 | £23.63 |
| Glasgow Central | Nottingham | £110.15 | £78.10 |
| Cardiff Central | Sheffield | £112.55 | £64.40 |
| Edinburgh Waverley | Leicester | £125.20 | £117.55 |
| Liverpool Lime Street | Southampton Central | £106.35 | £79.60 |
| Bristol Temple Meads | Brighton | £68.80 | £66.32 |
| York | Liverpool Lime Street | £16.20 | £13.47 |
| London Kings Cross | Edinburgh Waverley | £44.95 | £41.79 |
Trains departing after 13:00 on 14/09/2021
Trainline Features
1. They have a mobile app that passengers can use to speed up the ticket buying process. You can also store your tickets on the app, so they're readily available when you arrive at the station. However, you can only search for split tickets via their mobile app, not on their website.
2. Unlike most retailers, they sell season tickets for regular travellers to all stations on the national line. With their season ticket calculator, you can work out whether to buy a weekly, monthly, or annual season ticket.
3. Companies can use them to make corporate bookings. Employees can book themselves and share expense receipts. If your work overruns, you will also be notified of the next alternative trains to take from your station.
Split My Fare Features
1. From the start, we have focused on finding customers the lowest fares possible with split tickets. When Money Saving Expert tested 15 popular routes, they found we came out cheapest on 2 to 4 of these routes.
2. We pride ourselves on providing quality customer service at all hours of the day, achieving a rating of 4.5 on Trustpilot. While many bigger retailers send canned responses, we respond to each customer's need individually, knowing that individual circumstances can vary.
3. There are no booking fees. If you don't make a split ticket saving when you next book your journey to a UK station, no fee is charged. Only if we save you money by splitting your fare will we deduct a small percentage of the saving made.
Trainline Cashback Offers
They have courted controversy over their cashback offer system. At the end of the booking process, no matter how many times you have used them, they tell you that you can claim money off your next booking. By clicking on the link, users are encouraged to signup for a cashback subscription, costing £15 a month. The tactic does not break advertising rules, but many users signup, unaware a site of this size would be trying to get them to sign up for a monthly membership elsewhere.
Which Retailer Should I Book My UK Rail Ticket with?
Booking fees, higher prices, and adverts may give you enough reasons not to return to Trainline.com the next time you book. With its highly rated customer service and soon to be released easy to use mobile app in 2022, you may fancy booking your next journey through Split My Fare instead.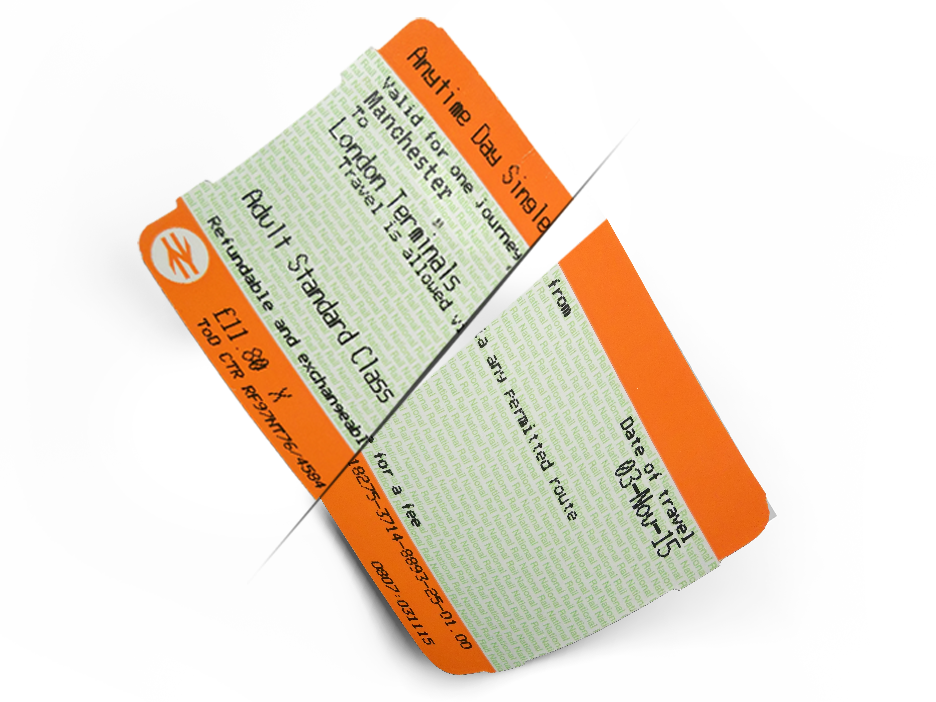 What Split My Fare Customers Say:
This site was simple to use and significantly cheaper. It makes travelling affordable.
The best prices, great customer service, quick responses. Highly recommended.
My journeys are now half as expensive, meaning I can travel twice as much! I will never use anyone else for tickets.
Frequently Asked Questions
Is there an alternative to Trainline?
There are alternative retailers to buy tickets from to avoid the booking fees and higher prices of Trainline. Split My Fare came out cheaper on a price comparison when 15 popular journeys were tested against Trainline, we also don't charge booking fees.
Is booking on Trainline cheaper?
When we did a price comparison of 15 popular journeys between Split My Fare and Trainline we found Trainline was not cheaper on all 15 journeys and we provided lower-priced tickets.
Why do you have to pay a booking fee on Trainline?
Trainline charges a booking fee in order to increase the price you pay for your train travel and maximise their profits.