Transport for London owns the London Underground, also known as The Tube. Passengers can travel on 11 different lines on the network, with 1.357 people doing so in 2017/18.
When you book with us and your journey involves using the tube, we will usually provide tickets for this part of your trip.
London Underground Train Map
With a network of 270 stations, you can get to anywhere in London using the Underground. If you're looking to visit another City, several lines go through Kings Cross, with connections across the country. For those looking to go further afield, the Piccadilly line stops at four of the Heathrow Terminals.
Click on the Image and Zoom In to have a better view...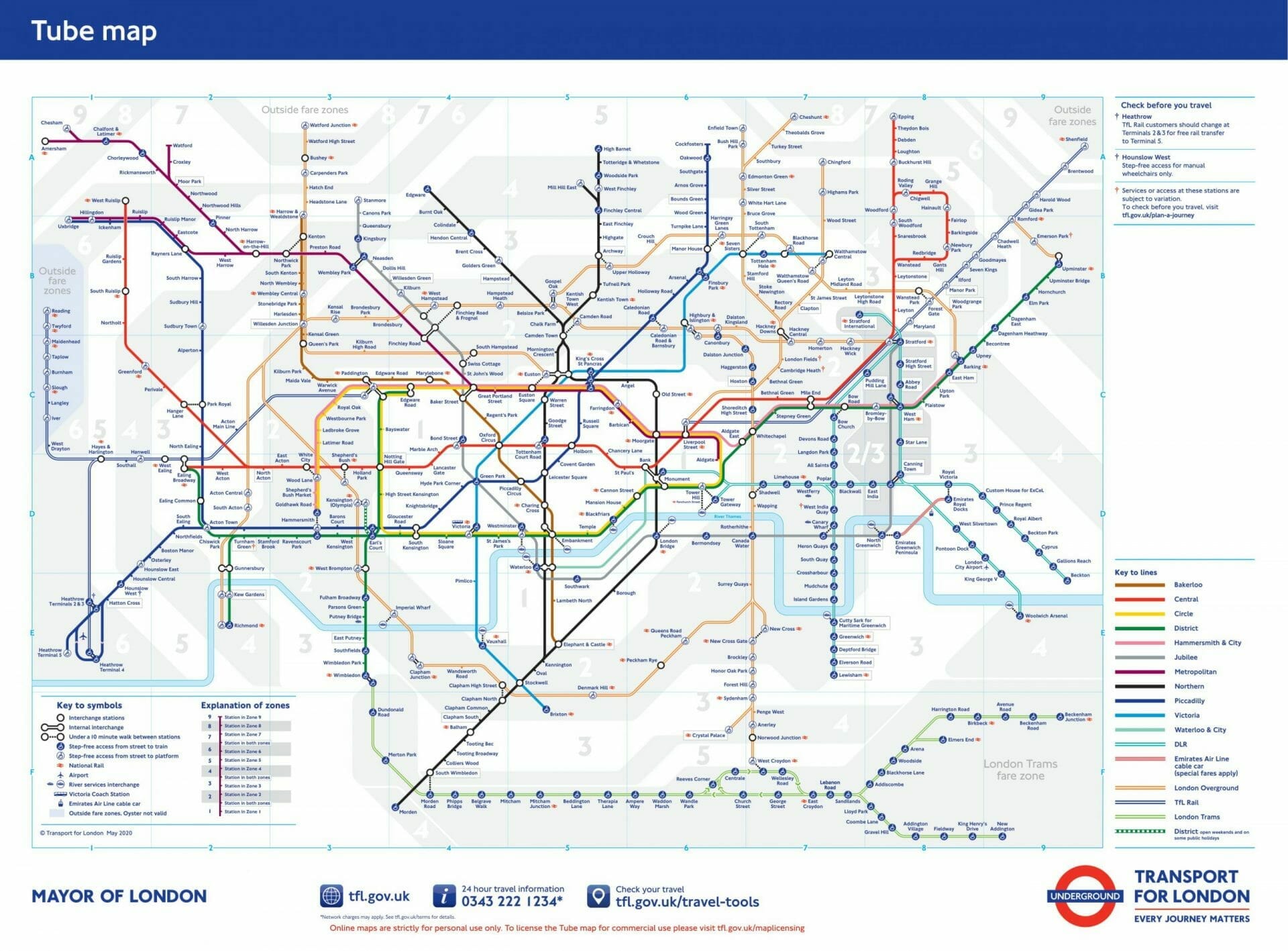 Source: London Underground Network Map
London Underground Customer Relations
Service Disruptions
Underground services run very often, but occasionally there can be work on the line, meaning trains run less regularly or that there are restrictions.

You can keep up to date with any disruptions on the TFL Status Update page.
Delay Repay
You can claim a refund when travelling on the tube if there is a delay to your journey of over 15 minutes.
You can find further information on the TFL Delay Repay page.
Frequently Asked Questions
What is the oldest tube station?
The London Underground opened in 1863 with the older stations on the line between Paddington and Farringdon Street.
What do Londoners call underground?
Londoners typically call the underground by it's alternative name, The Tube.
Is London Underground open?
The London Underground is normally open from 5am until Midnight on weekdays, with reduce hours in operation at weekends.
What is the underground train in London called?
An underground train in London is often called a Tube train.
How long is a London Underground train?
Trains on the London Underground are predominantly between 108m and 134m long with between 6 and 8 cars. Trains on the Waterloo & City line are short at 66.5m, with 4 cars.
How many trains are there in the London Underground?
There are currently 672 trains in operation on the London Underground.
What is the busiest station on the London Underground?
The busiest station on the London Underground is Waterloo, which was used by around 95 million passengers in 2015.
How fast do underground trains go?
The average speed on the underground is 20.5mph including stops
Why are London Underground trains so small?
London Underground trains are small because the cost of tunnels is determined by their diameter. Most tunnels on the Underground have a diameter from 3.1m to 4.9m.