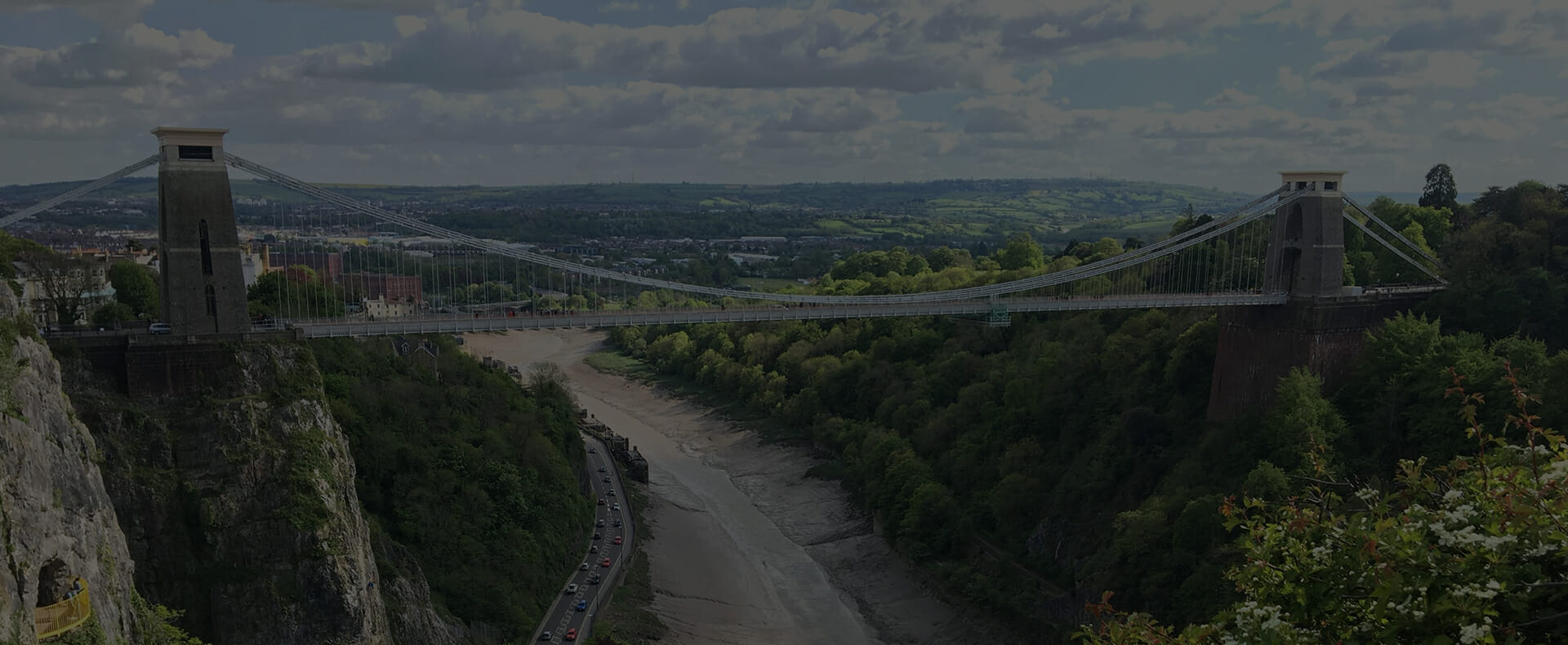 Cheap Train Tickets to Bristol
Get the best ticket prices to Bristol with our split ticket search
Cheap Trains to Bristol
The South West's cultural capital, Bristol is one of the most dynamic, quirky and colourful cities in the country.
Tip 1
Buy tickets in advance to save money.
Train companies offer cheaper Advance tickets to Bristol up to 12 weeks before the date of travel. Booking as soon as possible ensures the most significant savings, advance fares sell out fast! If you can't book early, advance fares may be available up to an hour before departure if they haven't sold out.
With excellent train links to London, Wales, and the Midlands; Bristol is the perfect place to go for a weekend break. Regular services to London are operated by Great Western Railway, it's only a 90-minute journey from the capital to Bristol Temple Meads station. For a day out, visit Clifton Bridge with its stunning views over the River Avon or complete the world-famous Banksy street art trail with 8 unique pieces.
Tip 2
Avoid paying booking fees.
Other train companies charge for every journey you book with them, at SplitMyFare we don't charge a booking fee. Only if you can split your ticket will we take 10% of the saving made. If we don't find you a cheaper split ticket, you won't have to pay a fee.
No visit to Bristol is complete without a spot of retail therapy at St Nicholas' Market, home to over 60 independent retailers and multiple street food stalls. Visit the Bristol Old Vic Theatre to catch a show or take a stroll around the Harbourside and watch the boats go by.
Tip 3
Claim money back on any delay.
If your train to Bristol is late, you can claim a full or partial refund with the Delay Repay scheme. You may be eligible for money back on any delay over 15 minutes, though this varies depending on the train company you are travelling with. Check with the operator what their policy is and claim your refund through them.
Opened in 1840 and built by the famous Isambard Kingdom Brunel, Temple Meads is a 15-minute walk from the city centre. Temple Meads is a thriving hub and interchange for inter-city transport services with trains to many major cities across the UK. Bristol's largest shopping area is nearby, as well as a host of other attractions.
Tip 4
Travel during Off-Peak hours.
Trains to popular destinations during peak hours can be expensive. Book to travel on a weekday during off-peak times to save money on your train ticket to Bristol.
There are several railways stations in Bristol. Great Western Railway runs services to Bristol Parkway, St Andrew's Road, and Montpelier. Trains to Bristol from London depart regularly from London Paddington and take around 90 minutes.
Tip 5
Book together when travelling in a group
If you are travelling to Bristol with friends and looking for cheap train tickets, you can save up to 1/3 with Groupsave discount. Book in a group of 3-9 people during off-peak hours to get the saving. Collect with e-Tickets to avoid numerous paper tickets, Groupsave discount will be added automatically when your booking is eligible.
Bristol has a wide range of excellent family-friendly activities. We The Curious, a 20-minute walk from Temple Meads station is a museum on the harbour that brings science to life with interactive exhibitions. Bristol Zoo in Clifton boasts hundreds of animal species, including gorillas, lions, and penguins; it is a quick walk from Clifton Down train station.
Tip 6
Compare the price of single and return tickets.
If you book a round trip, it is worth comparing the price of two single tickets with a return to find which is cheapest. At SplitMyFare, we automatically search for the lowest priced combination of fares for you.
Other than London, no city boasts more Michelin stars than Bristol. Bristol's restaurants are known to be some of the best the country has to offer, whatever you fancy eating. Head to Stokes Croft, Bristol's offbeat cultural hub, a 10-minute walk from Montpelier Station for a great choice of food and live music.
Tip 7
Travel on slower trains.
If you prefer a more scenic journey, booking a slower or less direct train can often save you money. We show you slower trains automatically if they are cheaper; if you prefer to only see the fastest routes, you can select to do so.
Bristol boasts its own airport, with flights to Europe all year round. Passengers can take the local bus direct to the airport from Bristol Temple Meads.
Tip 8
Check the price of first-class train tickets.
Sometimes first-class tickets to Bristol might be reduced to a similar or lower price than standard class due to low demand. You can enjoy the benefits of first-class, such as free food and drinks and bigger seats.
Cabot Circus shopping centre is the perfect place to go on a rainy day, with over 110 shops, cafés and restaurants, only 15 minutes walk from Bristol Temple Meads station. If vintage and charity shopping is what you're after, Gloucester Road boasts the largest number of independent shops in the UK and is a short walk from Montpelier Station in the north of the city.
Tip 9
Buy a Railcard.
You could save 1/3 when you buy train tickets with a Railcard, other benefits include free entry to attractions and other discounts. Most railcards cost £30 a year.
The Family and Friends Railcard gives 60% discount on fares for children and 1/3 off adult tickets, for up to four children and four adults.
The Senior Railcard offers 1/3 discount, at the reduced price of £70 for three years.
The Disabled Person's Railcard gives disabled passengers a discount of up to 1/3 on their trains to Bristol for £30.
Other Railcards available include the Network, 16-25 and 26-30 Railcard.
There is more information on the Railcard website, you can buy a Railcard at any National Rail Ticket Office.
Experience Bristol throughout history by visiting M Shed; a museum by the harbour that hosts art and photography exhibitions, and film displays. A 20-minute walk from Temple Meads station, entry to the museum is free.
Tip 10
Travel with flexibility.
Being flexible with the dates and train times you can travel will save you money. With our booking engine, you can easily find tickets at a reduced price.
Frequently Asked Questions
What train goes to Bristol?
The main trains to Bristol are run by Great Western Railway (GWR) and CrossCountry with services to London, Cardiff, Edinburgh and many other destinations.
How can I get to Bristol cheap?
The cheapest way to get to Bristol is by splitting your ticket but it is also worth booking in advance.
Is Bristol worth visiting?
Bristol is well worth visiting. It has beautiful architecture and parks and many attractions to visit, including the SS Great Britain.