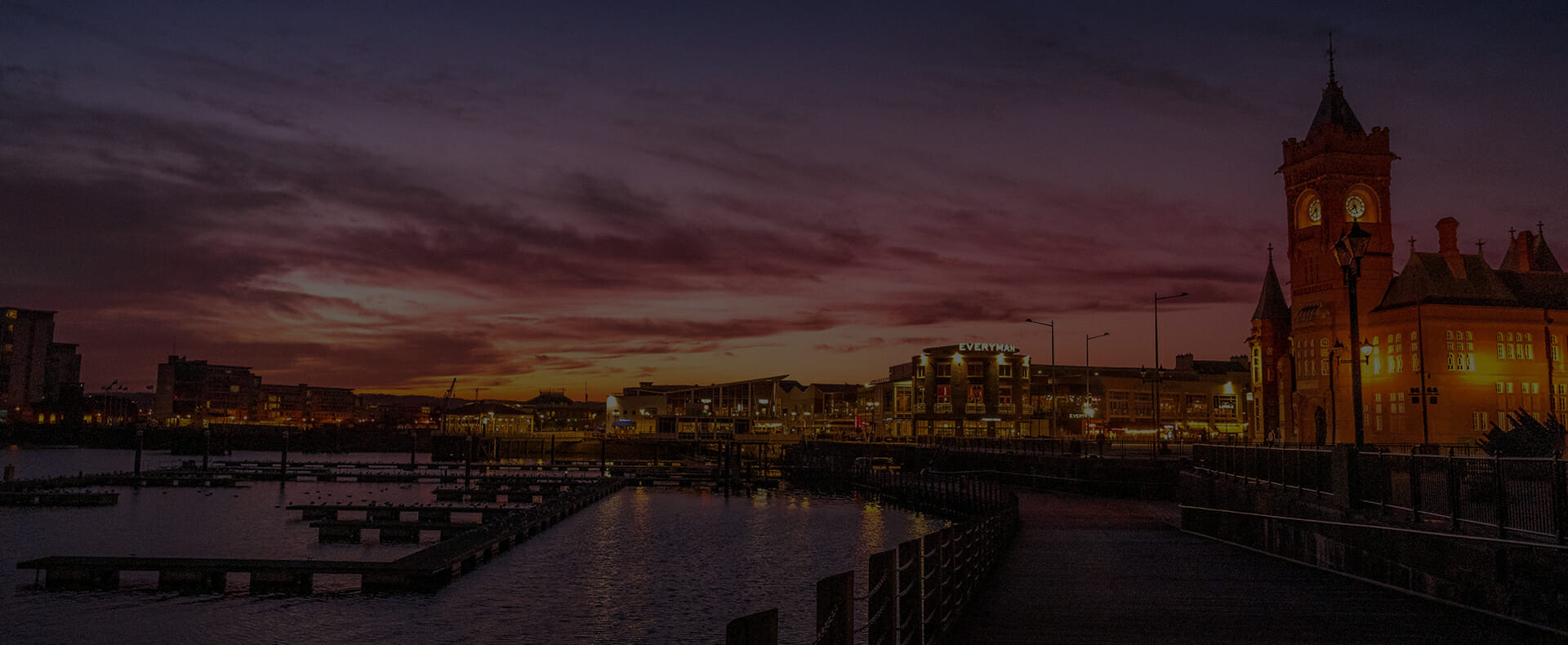 Cheap Train Tickets to Cardiff
Get the best ticket prices to Cardiff with our split ticket search
Cheap Trains to Cardiff
"When I was 2, we moved into an imposing country mansion 8 miles west of Cardiff, Wales." Roahl Dahl
Tip 1
Book in advance to get cheaper tickets
You can normally get cheap train tickets to Cardiff by booking in advance. It is possible to purchase advance fares up to 12 weeks before your train departs. Availability depends on demand, advance tickets can sell out quickly. If you can't book 12 weeks in advance, it is possible to book advance fares up to one hour before your train leaves.
Although Cardiff is known for being an industrial city, it has significantly changed in the last few decades. Today, Cardiff is popular among tourists worldwide, thanks to its lively modern vibe amidst a culturally rich city. Every weekend, thousands of revellers flock to the city's thriving pubs and bars, and swarms of shoppers hit the booming shopping centres. Cardiff has been hailed as one of the top 10 shopping destinations in the UK. When you are travelling to Cardiff by train you would normally expect to depart at Cardiff Central.
Tip 2
Avoid booking fees
Unlike many other companies, we do not charge booking fees or for using credit cards when you book cheap train tickets to Cardiff. We only take 10% of any saving you make with us by splitting your ticket. If we don't make you a split saving, we won't charge a fee.
Tip 3
Claim a refund when your train is delayed
Unfortunately, you might find that your train to Cardiff is delayed. If this is the case, you can get compensation on your train tickets to Cardiff directly from the Train Operating Company using the Delay Repay scheme. You may be entitled to a full or partial refund on any delay over 15 minutes. Check with the train operator to find out their refund policy.
Cardiff Central railway station is the major transport hub in Cardiff and an ideal starting point when exploring the city; it is close to most of the city centre's main attractions. Most inter-city travel goes through Cardiff Central station. Cardiff Queen Street station is the base for Valley Line services, connecting the city to the commuter towns and suburbs.
Tip 4
Avoid travel on busier routes
If you can take a quieter route to your destination, you could get cheap train tickets to Cardiff Train Station. Ticket prices are based on demand, if you travel to a quieter station, you can save money. You can also cut the cost of your travel by travelling during off-peak times.
Tip 5
Always book together when travelling in a group
If you're travelling to Cardiff with a group of friends you can make savings by booking together using Group save discount. You can save up to a 1/3 off
train tickets
when travelling as a group of 3-9 people during off-peak times. It is worth choosing to collect with e-Tickets, this avoids having many paper tickets if we have split your fare.
Cardiff Castle is one of the most famous landmarks in the city, built on a Roman fort's foundation. During the 19th century, the castle was the residence of the Marquis of Bute; in the middle, you can find the Norman fort. Castell Coch is another castle you can find in Cardiff, perched beautifully on a hill that overlooks the main gateway to the city's outskirts' valleys.
Tip 6
Check if a return is cheaper than two singles
It is worth checking if two single tickets are cheaper than a return ticket. At Split My Fare we automatically look for the cheapest combination of fares for your journey.
Tip 7
Use a slower train for cheaper travel
If you aren't in a hurry to get to Cardiff, you could make your journey cheaper by taking a slower train. If a longer journey is more affordabel, we will automatically show you this option; if you want to take a faster train, you can only see these journeys.
Tip 8
Look at the price of first class tickets
While you may think travelling by first instead of standard class will always be more expensive, it is worth comparing the price of these tickets. If there is lower demand for first than standard class train tickets, you can find them at a similar price or even cheaper. You get the added benefit of free food and drink and bigger seats.
The Wales Millennium Centre is an outstanding piece of modern architecture that opened in 2004. The centre is an iconic, futuristic venue for operas, dances, and musicals. If you fancy a walk, try Bute Park, a collection of Cardiff Parks that stretches towards the city. If you want to take in some history, visit the National Museum of Cardiff, dedicated to Wales' national history and arts and housed in a neoclassical building.
Tip 9
Buy a Railcard if you travel regularly
A great way to save money if you travel regularly is to buy a railcard. Even if you only take the train a few times a year, it is worth getting a railcard, and you can save as much as 1/3 on tickets. There are many different types of card available, and they provide additional benefits of free entry to attractions and other discounts.
Most railcards are £30 a year, some are even cheaper at £70 for three years.
If you often travel as a couple, the Two Together Railcard will save you 1/3 on most tickets.
The Family & Friends card is perfect if you travel as part of a large family, giving 1/3 off adult and 60% off children's fares. Up to four adults and four children can use this card.
The Senior Railcard, for over 60s gives 1/3 off most tickets, a 3-year card costs just £70.
Disabled Passengers can purchase a Disabled Person's card for just £20 a year, getting 1/3 off tickets.
There are other Railcards available, including the 16-25 and 26-30 Railcard.
You can find more information on the Railcard website. Railcards are on sale at any National Rail Ticket Office.
Tip 10
Travel with flexibility
Being flexible in your journey arrangements is a useful way to save money on your journey to Cardiff. If you can look at different dates and times for your journey you may save on your tickets. Our booking engine makes it very easy to look at alternative travel options.
Main stations in Cardiff
Cardiff Airbus
Cardiff Bay
Cardiff Central
Cardiff Queen Street
Grangetown
Rhoose Cardiff International Airport
Whitchurch
Frequently Asked Questions
How do I get to Cardiff by train?
The main route to Cardiff by train is from London Paddington, taking around 2 hours.
Can you get a train to Cardiff Bay?
Many trains that stop at Cardiff Central also stop at Cardiff Bay.
How do I get to Cardiff Central?
Trains to Cardiff Central run regularly from Bristol Temple Meads, London Paddington and other stations in Wales.