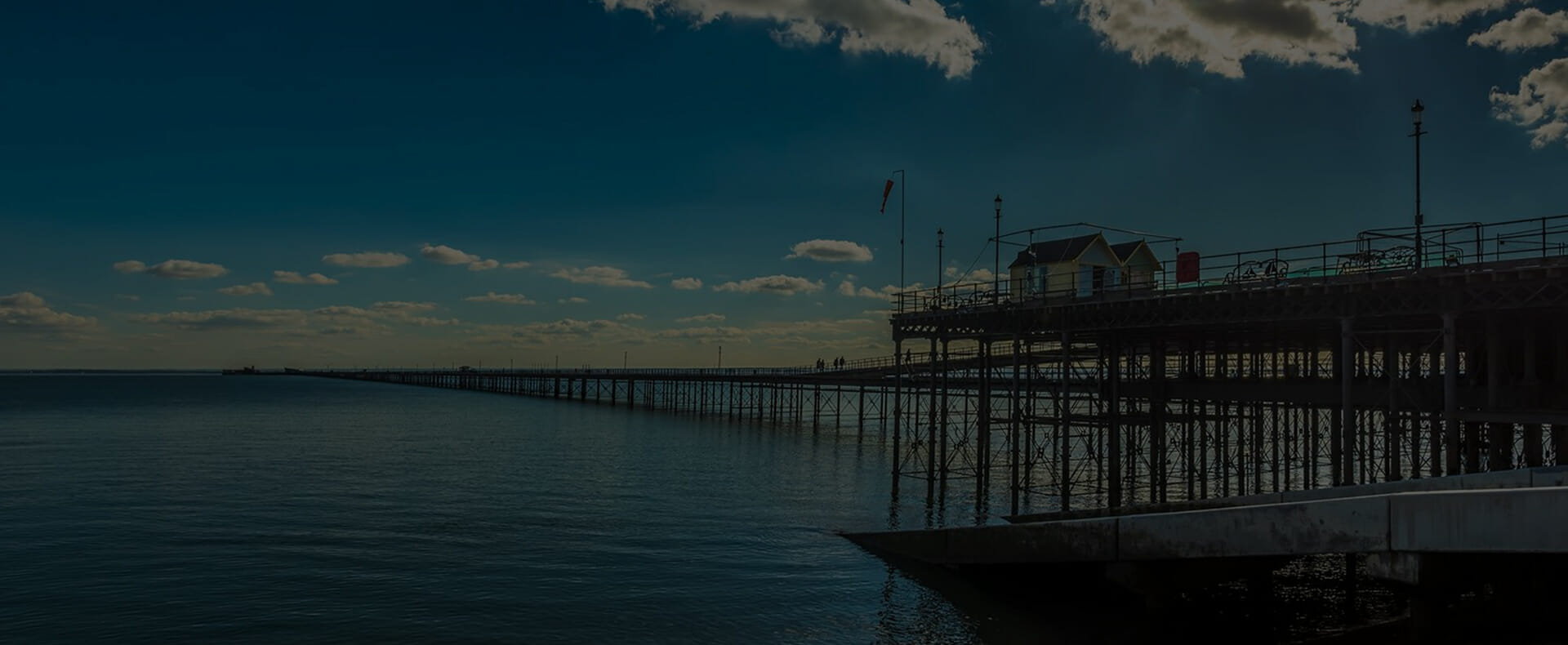 Cheap Train Tickets to Southend
Get the best ticket prices to Southend with our split ticket search
Cheap Trains to Southampton
"Southend is a dormitory town for London. But it also has this thing of being the playground of the East End, a glamorous holiday town." Helen Mirren
Southend-On-Sea, more commonly referred to as Southend, is a town and borough, on the Essex coast. Famous for its pier, beaches and other attractions, Southend has a lot more to offer couples and families than just the sea.
Tip 1
It is cheapest to buy tickets as early as possible
Buying an advance train ticket to Southend can make you significant savings. These fares are made available by the Train Operating Companies about 12 weeks before your travel date. You will need to be quick as these tickets are often in high demand, so can sell out fast. If there are any still available, you can book them up to 1 hour before departure.
Chalkwell Beach is just five minutes' walk from the Chalkwell station, and there are many food and drink stalls located in its vicinity. Quieter than the other beaches, it is brilliant for those who want to escape from the hustle and bustle.
For a more lively coastal experience, it is worth trying City Beach; it has state of the art lighting columns and a fountain for kids. There's a cycle shop here that you can hire bikes from; this is an excellent way to travel around Southend, and there are some great cycle routes.
Tip 2
Avoid booking and card fees
Many retailers charge booking fees, with some as high as £1.50 but at Split My Fare you won't have to pay any booking fees or card fees. The only charge you will pay is 10% of any savings made by splitting your fare, so if we don't find you a split, then you won't pay a fee.
Southend pier is the most famous attraction in the city, touting itself as the world's longest pier. On it, you'll find a tea room, cafe, and the Royal Pavilion. Entry to the Pavilion is just £5.50; with access to many different activities. The pier is less than ten minutes' walk from Southend Central Station, or you can catch a train to the Southend pier itself.
Tip 3
If your train to Southend is late then apply for a refund
Should your train be delayed, you can apply for a full or partial refund using the Delay Repay scheme. Depending on which train company you travelled with, you might be able to claim for just a 15-minute delay. You will need to check the train operator's website to see what delays they offer refunds for and apply for compensation through them.
The Southend Sea Life Centre is located just down the road from the pier and features over 40 different types of animals including sharks, tropical pufferfish, clownfish and mongeese. The last admission to the centre is at 5:15 PM, but it's worth getting there earlier to beat the queues.
Tip 4
Popular journeys cost more
Demand determines the price of train fares. If a journey is popular, the price will be higher. One way to save money is to travel on trains that avoid popular routes and busy city centres. If you are taking the train to Southend, this might mean that instead of arriving at Central Station you depart at a station nearby and save money. Check
our guide
to help you find cheap train tickets.
The main station is Southend Central station right in the middle of the town. To get to it from London, you would depart from London Liverpool Street. Southend takes just over an hour to reach from here, making it the perfect day trip for city dwellers. Services also head back to London regularly, so you shouldn't be waiting for longer than half an hour. Greater Anglia runs trains to the Airport from Central Station which arrive in under 20 minutes, meaning it's also easy to travel abroad.
Tip 5
Buying tickets as a group saves money
If you are going to Southend with friends, or on business with colleagues, you can get a Groupsave discount. If 3 - 9 people book their train tickets together for an off-peak train, they can get up to 1/3 off, making it cheaper for everyone in the group. Booking with e-Tickets makes things easier; you won't have lots of paper tickets to pass round and can simply forward them to your group.
Near Chalkwell beach is Netpark Digital Park, the world's first digital art park. You can find year-round exhibits hosting over 15 digital artworks and stories created by artists, writers, illustrators, and school pupils. Each piece of artwork is an app downloadable through your phone and located with GPS coordinates.
Tip 6
Compare the price of return and single tickets
It is common for passengers to return to the same location as they departed; it can make sense to book a return fare. It might work out cheaper to do so but buying two single tickets instead could save you more money. When booking with us, we do the hard work. Our site shows you the cheapest possible fare for your journey, whether this includes return or single tickets.
There are a few railway stations in Southend, with Southend Central, the largest and Westcliff, Southend East. Southend Victoria is to the north of the town and offers many services travelling across the country. It is worth taking a train to Southend Central and hiring a bike so that you can see all the attractions.
Tip 7
Slower trains are usually cheaper
You may want to take the quickest train to reach your destination as soon as possible. If so, we can help by giving an option just to show these faster trains. If you're not in a hurry, travelling on a slower less direct train can save you money. We automatically show you the cheapest travel options; if this includes a slower train, you will be able to book this.
Built in 1905, the Southend Central Museum & Planetarium houses collections of local natural history. The planetarium seats 20 people and its live presentations mean you can ask questions. It's worth booking in advance, especially on the weekends.
Tip 8
Look at the price of first-class tickets
First-class fares are sometimes cheaper than you might think as their price depends on demand. If there aren't many passengers booked in first class, they may be similar to a standard fare, or even cheaper. There is a toggle on our website so you can easily compare first-class and standard-class fares. An advantage of travelling first-class is greater comfort; with larger seats and complimentary food and drinks, you will arrive in Southend feeling more relaxed.
The Peterboat restaurant and bistro offers delicious British Pub food in an attractive setting, along the Thames Estuary. Oldham's fish restaurant along the seafront provides classic fish and chips perfect for eating on the beach; if it's a colder day inside seating is also available.
Tip 9
Railcards make your journey cheaper
When you take the train to Southend, you can find more significant savings by using a railcard; they can get you 1/3 off the cost of your fare every time you travel. Railcards cost as little as £30 per year, with many different options available to passengers. Regular travellers make the most significant savings, but even using the card three times a year will cut your travel costs. You can also benefit from free entry to different UK attractions and discounts.
The Two Together Railcard, allows two adults to travel together regularly and save 1/3 on most fares.
The Family and Friends Railcard provides 60% off fares for children and 1/3 off almost all adult fares for up to four children and four adults, so it's ideal for large families.
The senior railcard offers the same discount, but at a reduced cost of £70 for three years.
Disabled passengers can get discounts on their train fares with the Disabled Persons Railcard, it is £30 a year and gives 1/3 off most tickets.
Other Railcards available include the Network Railcard, 16-25 Railcard, and 26-30 Railcard. The railcard website has more information; you can find cards on sale at any National Rail Office.
Tip 10
Being flexible can make you savings
Looking at different options in terms of time or the date of travel and avoiding weekends will mean your trains to Southend cost even less. If you need to travel at a specific time, you may find your journey is more expensive.
Main stations in Southend
Southend Airport
Southend Central
Southend East
Southend Victoria
Frequently Asked Questions
How do I get to Southend Airport by train?
You can get to Southend Airport by train from Liverpool London Street Station. Trains run regularly and the route also goes via other major cities.
How do I get to Southend Beach?
You can walk to Southend Beach from Southend Central station or Thorpe Bay station.
What is Southend famous for?
Southend is famous for its beaches and also has the longest pier in the World at around 1.3 miles long.