Book Cheap Train Tickets From London to Glasgow
Glasgow is well worth a visit on the train from London Euston Train Station as a city with great culture, whether it be music, art, or museums. There are plenty of places worth visiting on the doorsteps of Glasgow Central and Glasgow Queen Street Train Station, whether it be the Kelvingrove Art Gallery and Museum, the Riverside Museum of Transport and Travel, or Buchanan Street. Regular services from London Euston Station to Glasgow Central Station are operated by Avanti West Coast, with journeys taking around 4h30m. You can also reach Glasgow by departing from London Kings Cross and changing trains at Edinburgh. Glasgow Queen Street and Glasgow Central train stations are just a 10-minute walk from each other, so it is easy to travel between the two. You can generally find the cheapest train tickets for your train journey from London to Glasgow by booking in advance. If you split your ticket by booking with us, you can save up to 90%.
Travelling From London to Glasgow by Train
Departure Station
---
Arrival Station
---
Distance
345 Miles (555 Kilometres)
---
First Train
---
Last Train
---
Fastest Journey Time
---
Avg. Journey Time
---
Frequency
---
Operators
Avanti West Coast, Caledonian Sleeper, London North Eastern Railway
---
West Coast Route
The train to Glasgow from London travels along the West Coast Mainline on high-speed trains operated by Avanti West Coast. Glasgow Central is situated just North of the River Clyde, close to George Square, Buchanan Street, and George Square. Glasgow Central is a large station with 17 platforms, including two on the lower level and plenty of cafes and shops to browse. Trains to Glasgow Central from London Euston typically stop at Carlisle, Preston, and Warrington en route, with some trains calling at Birmingham New Street.
Click on the Image and Zoom In to have a better view...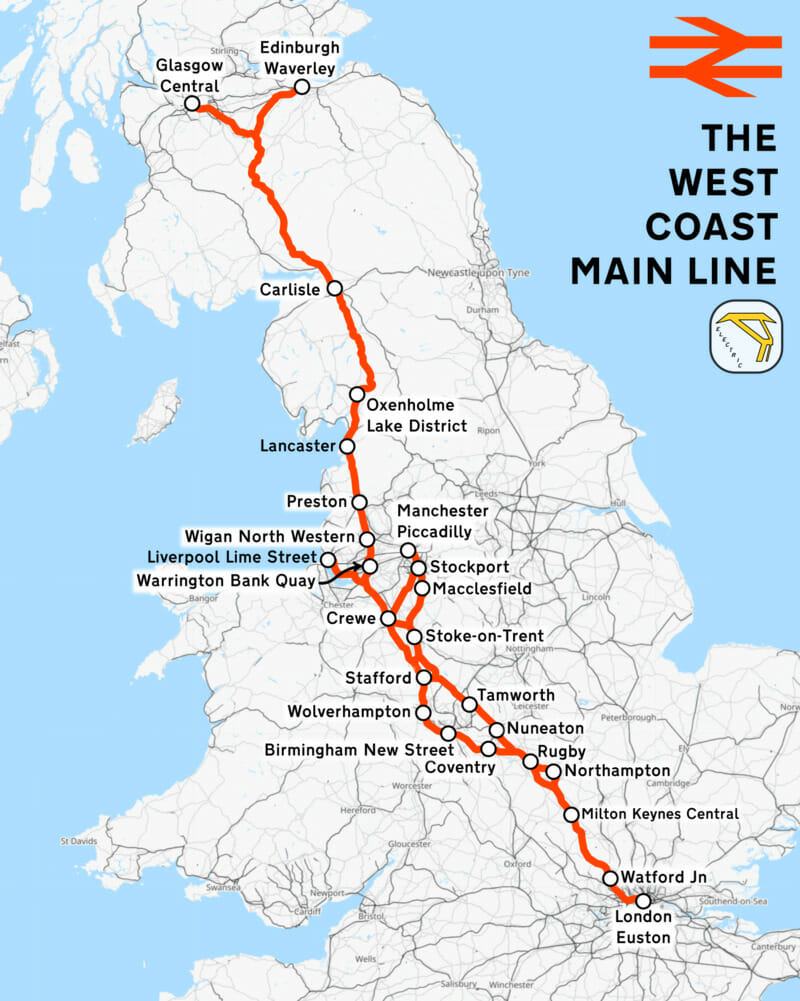 London to Glasgow Train Routes
With Glasgow trains from London taking an average of 5h5m, you might want to stop off at another fantastic destination in the UK on your route. Services run along the West Coast Main Line through Liverpool and Manchester on Avanti West Coast trains or via Edinburgh from London Kings Cross on the East Coast Main Line on services operated by LNER.
Train Companies
Avanti West Coast
Avanti West Coast operates services from London Euston, stopping at cities including Carlisle, Preston, and Birmingham. Avanti West Coast offers Standard and First Class Seat reservations on their trains and uses a high-speed pendolino train.
Caledonian Sleeper
If you want to travel in luxury, you can travel from London Euston on a Caledonian Sleeper train. Trains usually depart from London Euston at 23:45, arriving at 07:30. There are cabins with beds and bathrooms, as well as seats to choose from.
London North Eastern Railway
It may be you would like to take your train along the beautiful East Coast of England and Scotland and stop by Edinburgh on the way. LNER operates high-speed Azuma trains on the East Coast Main Line; they typically arrive in Edinburgh quickly because they don't make many stops.
Frequently Asked Questions
Is there a direct train from London to Glasgow?
Direct trains from London to Glasgow are operated by Avanti West Coast, running on the West Coast Main Line.
What are the London to Glasgow train times and schedule?
Typically, the schedule of train times from London to Glasgow is two services per hour, with each train having slightly different calling points.
How long does it take to travel from London to Glasgow by train?
The average journey time from London to Glasgow by train is 5h5m, but trains can be as fast as 4h29m.
How much is the train ticket from London to Glasgow?
The train ticket price from London to Glasgow varies, but by splitting your ticket and booking in advance, you can book your journey for as little as £46.75.
When should you book your train tickets from London to Glasgow?
It is always best to book your tickets from London to Glasgow as far in advance as possible to get the cheapest tickets. Tickets usually are released up to 12 weeks in advance of the departure date.