c2c operates in East London and is well known for being one of the most punctual and popular train companies. They have won many awards, including Rail Operator of the Year. c2c is owned by Trenitalia; who themselves run 8,000 trains a day, serving 600 million passengers a year.
c2c trains operate from London Fenchurch Station, visiting local stations. They are mainly used by commuters, with additional services running during peak periods.
c2c Train Map
If you can't decide where to go, our train map can help. From London Fenchurch Street station, you can explore London and Essex.
c2c trains go to London from a lot of the commuter hubs. If you fancy a more relaxed trip, you can head to the seaside resorts of Leigh-On-Sea and Southend.
Click on the Image and Zoom In to have a better view...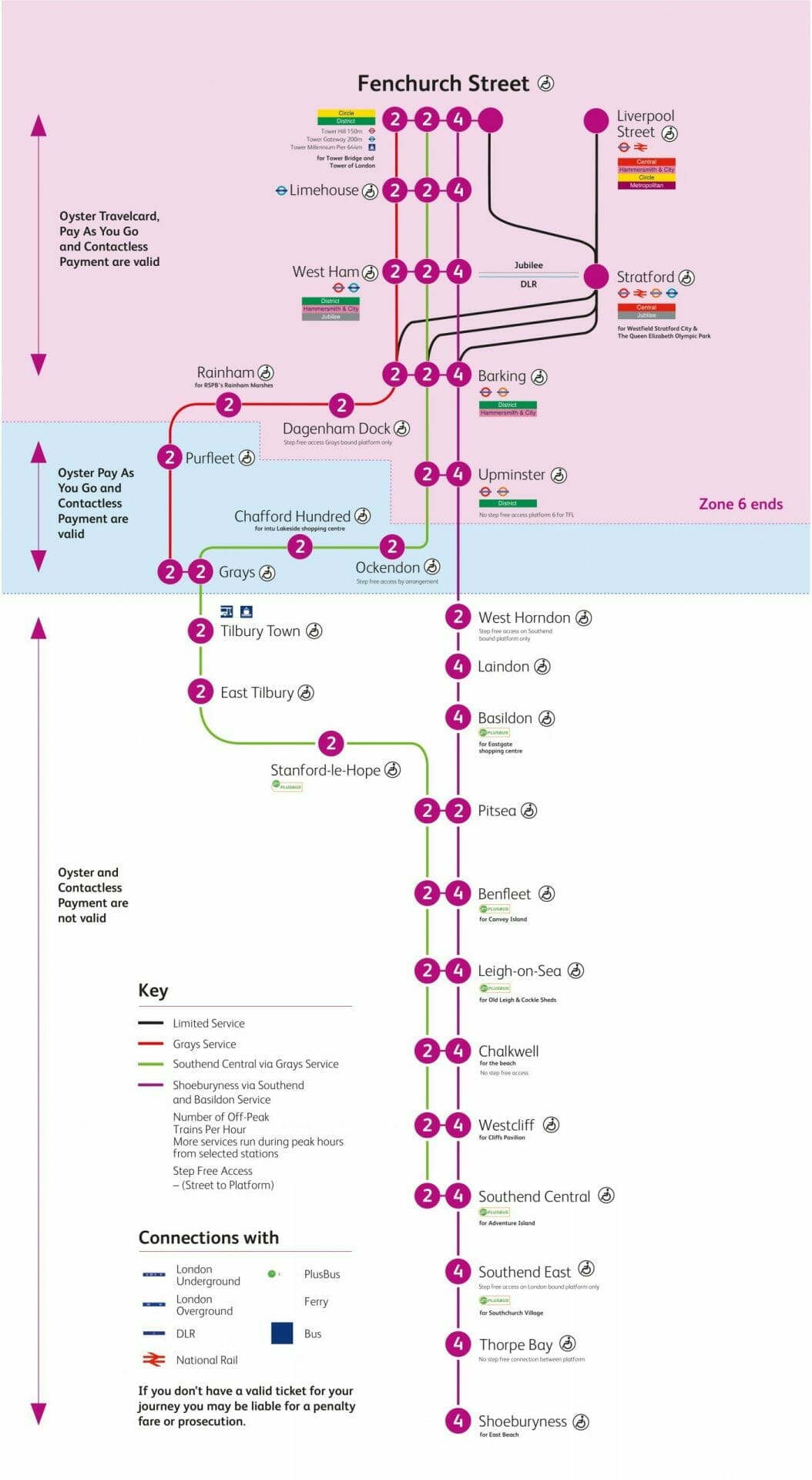 Source: c2c Network Map
c2c Customer Relations
Telephone: 0345 744 4422
Open 0800 – 2000 Monday to Friday and 0900 – 1600 on weekends and bank holidays.

Post: FREEPOST ADM3968, Southend, SS1 1ZS

Cycle Reservations: You don't need a reservation on c2c trains.

Assisted Travel: 03457 444 422 (Option 3) or [email protected]
Service Disruptions
There may be a delay to your c2c train if there is work on the track or bad weather. It is worth checking if your train is running on time.

To do so, visit the c2c JourneyCheck page.
Delay Repay
When there is a delay to your c2c train, you can get compensation as follows:
15 to 29 minutes - 25% of the cost of your single ticket or 12.5% of the cost of your return ticket
30 to 59 minutes - 50% of the cost of your single ticket or 25% of the cost of your return ticket
60 to 119 minutes - 100% of the cost of your single ticket or 50% of the cost of your return ticket
120 minutes or longer - 100% of the cost of your ticket whether single or return
You can find more information on the c2c Delay Repay page.
Frequently Asked Questions
What does c2c stand for?
c2c is thought to stand for numerous phrases including commitment to customer, Coast to Capital or City to Coast
What stations does the c2c stop at?
c2c trains stop at 28 stations with their main London stations being London Fenchurch Street. Their routes from London run to Shoeburyness, Southend and Grays.
Is there WiFi on board c2c trains?
C2c offer free WiFi on their trains with up to 100MB daily data allowance available for customers.
Can I take a bicycle on a c2c train?
You can take bikes on c2c trains without a reservation, however bikes are not allowed on trains arriving to London Fenchurch Street between 07:14 - 09:30, or leaving London Fenchurch Street between 16:30 - 18:35.
Where do c2c trains go?
C2c trains run on the London, Tilbury & Southend Railway from London to Shoeburyness via Basildon, London to Southend Central via Ockendon and London to Grays via Rainham
How often does the c2c run?
c2c trains run from Southend Central to London 6 times an hour and from Grays to London 2 times an hour.