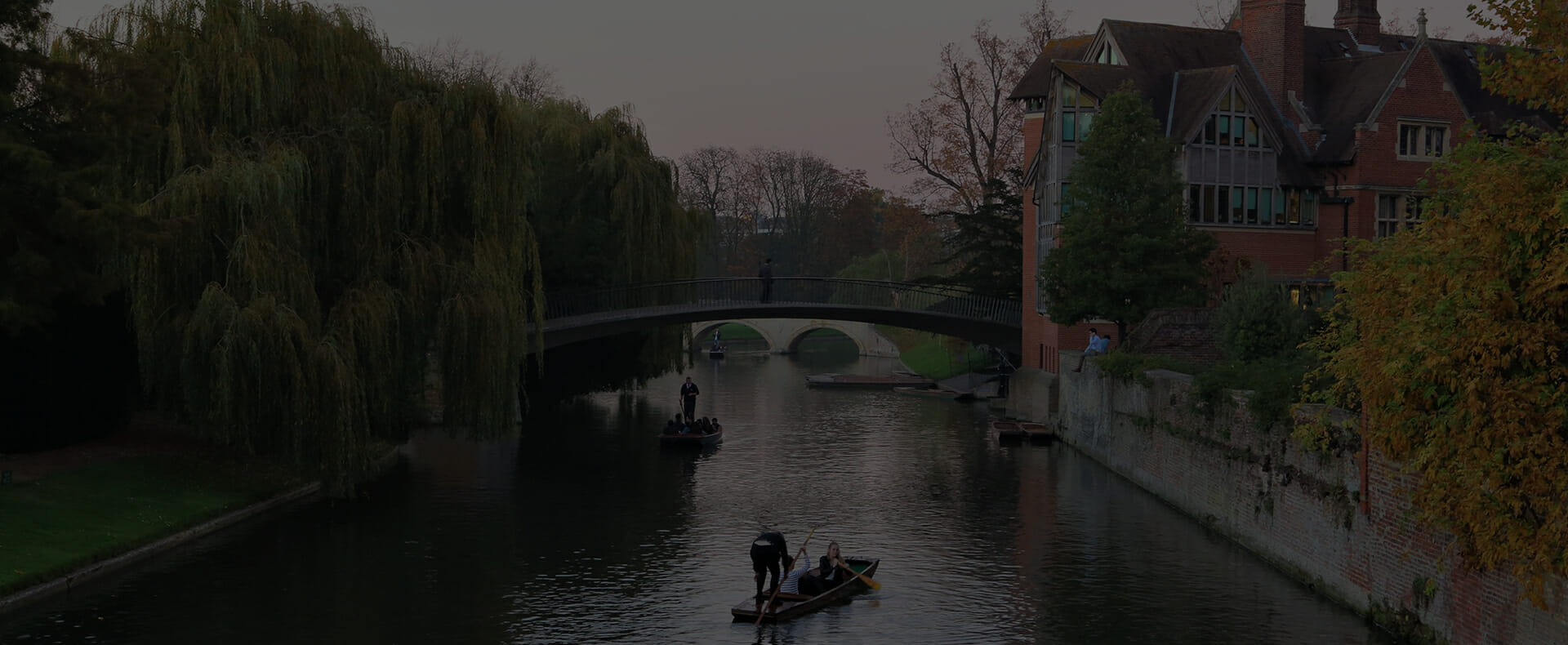 Cheap Train Tickets to Cambridge
Get the cheapest fares to Cambridge with our split ticket search
Cheap Trains to Cambridge
"Cambridge is heaven; I am convinced it is the nicest place in the world to live. As you walk around, most people look incredibly bright, as if they are probably off to win a Nobel prize." Sophie Hannah
Home to one of the most famous universities in the world, most visitors travel to Cambridge to see the famous college buildings. Cambridge is home to amazing waterways and lush farmland, making it a great destination for cycling and walking.
Tip 1
Book in advance to get the cheapest tickets
The earlier you book your ticket, the more likely you will get cheaper, advance tickets to Cambridge. Train operators release advance fares 12 weeks ahead of travel, but they can sell out fast. You can sometimes buy advance tickets up to an hour before your departure if you can't plan ahead and they haven't sold out yet.
Tip 2
Don't pay booking fees
Unlike other companies, we do not charge booking fees or for using your credit card. We will only charge a fee if we manage to make you a saving by splitting your fare. The charge will be 10% of any saving made; if we don't split your fare, you won't pay any fee.
Tip 3
Use Delay Repay to claim a refund
Trains don't always run to time; your journey to Cambridge may be delayed. With Delay Repay, you can apply for a full or partial refund depending on the length of your delay. Depending on the network you are travelling with you may be able to claim for any delay over 15 minutes. Check the policy of the operator and apply for your refund through them.
Regular services run to Cambridge from London's King's Cross and Liverpool Street stations. The fastest train is the Cambridge Cruiser, which arrives in Cambridge from King's Cross in less than 50 minutes. Cambridge railway station is one of the main junctions of the East Anglia railway network; regular trains run to and from Norwich, Ipswich, Peterborough, and Birmingham.
Tip 4
Look at less popular routes to make savings on your fare
As ticket prices are based on demand, try to avoid the most popular routes to busy stations. Quieter routes, perhaps stopping just outside Cambridge may be quieter and take more time, but they can often be cheaper. Travelling during peak hours, weekends, and holidays also means higher ticket prices; off peak, weekday travel tends to be cheaper.
Tip 5
Make your booking as a group
Cambridge is a lovely place to visit with family or friends; if you are going as a group, you can cut the price of your tickets with Groupsave Discount. When travelling in a group of between 3-9 people, you can save money if you book your train tickets and travel together during off peak hours; normally you can make savings of 1/3. With Split My Fare the discount is automatically applied for you. It is worth collecting with e-Tickets which you can forward to members of your group.
Most central areas of Cambridge are pedestrian-friendly; you can easily access the city's most famous sights, including the university, by foot. Cambridge is home to the world-renowned University of Cambridge, established in 1209; the university is divided into 31 colleges. The colleges with particularly famous buildings include King's, Trinity, Queen's, Clare, Pembroke, Saint Catharine's, Homerton, and Corpus Christi.
Tip 6
Compare the price of single and return tickets
When taking a round trip to Cambridge and looking for cheap train tickets to Cambridge, it is worth checking if two single tickets are cheaper than a return. When you use SplitMyFare, we work this out for you automatically, selling you the cheapest combination of tickets.
Tip 7
Use a slower train for cheaper travel
If you aren't in a hurry, it may be worth taking a less direct train to Cambridge to save money. Slower, quieter routes which travel via more stations or involve changes can often save you money. If you only wish to see the fastest trains you can select only to see these on our website.
Tip 8
Travelling first class isn't always expensive
Demand for different types of tickets can fluctuate; you may find that first-class tickets are cheaper or a similar price to advance tickets when you take the train to Cambridge. Additional benefits of travelling first class include having the luxury of bigger seats, free hot drinks and table service, making a more relaxed journey.
The city's parks and gardens are not to be missed. The Botanic Garden of Cambridge University is a great place to relax, away from the hustle and bustle of university life. There are gardens by the river, known as The Backs located behind the various colleges. Jesus Green, originally proposed as a site for the Cambridge railway station, is a massive piece of parkland and a quiet retreat away from the busy city centre.
Tip 9
Railcards can make journeys cheaper
A great way to get
cheap train tickets
to Cambridge is to use a Railcard. Regular travellers can make great savings but even if you only travel by train a few times a year you can save money. There are many different types of Railcard to suit different needs, most cost £30 a year or £70 for three years, making them great value.
The Senior Railcard for over 60 yr olds gets you 1/3 off most tickets. The Disabled Persons Railcard which is cheaper at £20 a year, also gets you 1/3 off. The Two Together Railcard allows two people who regularly travel together to save 1/3. The Family and Friends Railcard reduces the travel price for up to four adults and four children, child tickets are 60% cheaper, and adults get 1/3 discount. Other Railcards available include the 16-25 yr olds Railcard and the 26-30 yr old Railcard. Members of the Armed Forces have their own discount card, and there is a Network Railcard. Check the Railcard website for more information; you can purchase all Railcards from any National Rail ticket office.
Tip 10
Flexibility can make savings
You can save money by being flexible in your travel arrangements to Cambridge, being willing to travel at less busy times on different dates. Our booking engine allows you to easily try different dates and times to find tickets at the lowest prices.
Frequently Asked Questions
How do I get to Cambridge by train?
You can get to Cambridge by train from London via Kings Cross station. Trains run every few minutes and normally take around 50 minutes.
What trainline is Cambridge on?
Cambridge Station is at the Northern End of the West Anglia Main Line. Other stations on the line include London Liverpool Street and Stansted Airport.