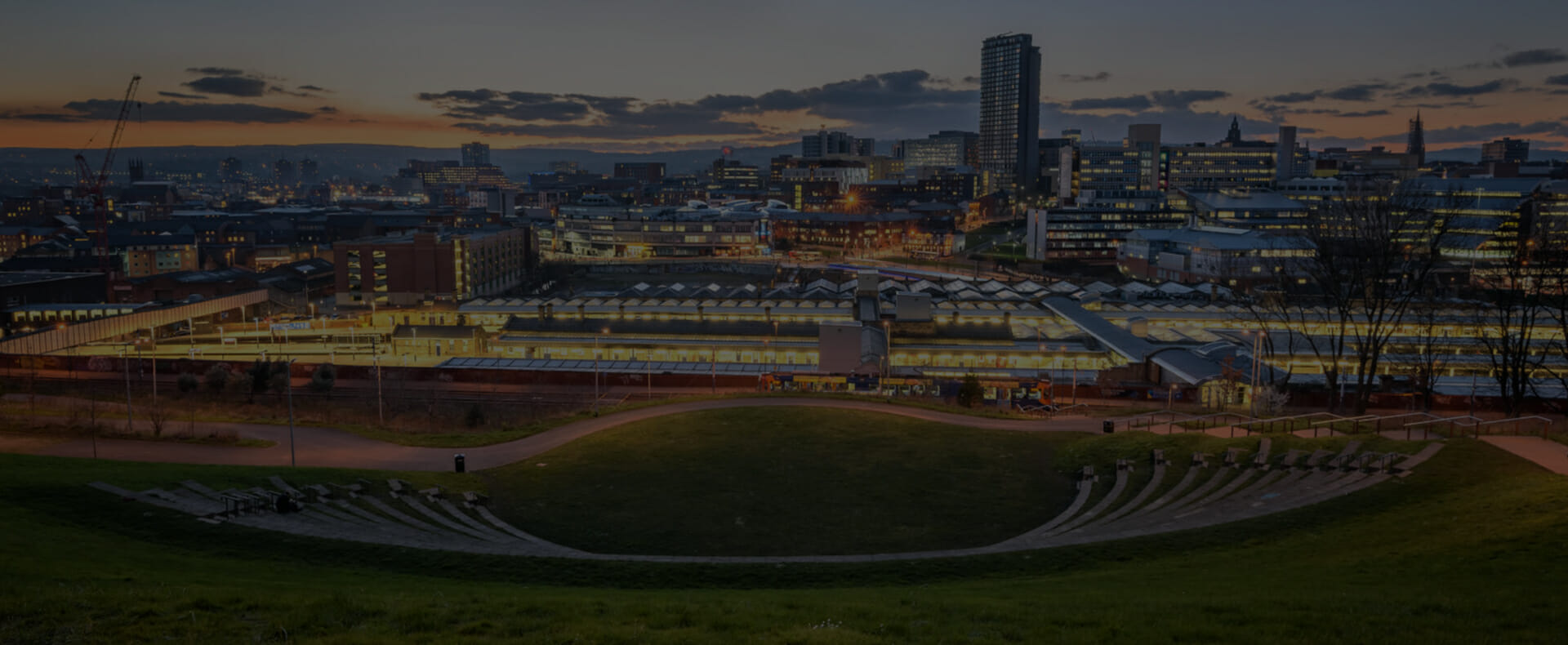 Cheap Train Tickets to Sheffield
Get the best ticket prices to Sheffield with our split ticket search
Cheap Trains to Sheffield
Known as the Steel City, Sheffield produced the highest-quality cutlery and steel goods in the world. Now, it is a thriving South Yorkshire metropolis near the stunning Peak District. With its two universities, it has a great music scene and nightlife. With excellent links to Manchester, Leeds, Liverpool, and London, it is perfectly placed for a weekend away. Find tips to buy cheap rail tickets to Sheffield below.
Tip 1
Save money with advance tickets.
The cheapest train tickets to Sheffield are available up to 12 weeks before the date of travel. Advance tickets are heavily discounted, but hurry as they are in high demand and sell out fast. Advance fares may be available on the day of travel up to an hour before your train departs if they haven't sold out.
Visit the famous Sheffield Tap, a friendly local pub with many refreshing craft beers, it has its own microbrewery on site. The pub is a perfect spot for people watching and enjoying a drink in a lively atmosphere.
If you want to go a little further, be sure to visit Meadowhall, in the north of the city, the biggest shopping location in Yorkshire. The centre has over 280 shops, jewellers, restaurants, and a cinema. There over 150 trains per day to Meadowhall from Sheffield station that take about 10 mins.
Tip 2
Avoid booking fees.
Other train companies charge a booking fee for every journey you book with them, but not SplitMyFare. Only if you save by splitting your ticket, will we deduct 10% of the amount saved. If we don't split your ticket, we won't charge a fee.
If you're travelling from London, you can easily find cheap train tickets from Sheffield to London St Pancras, with three trains running an hour. These direct journeys are operated by East Midlands Trains and usually take 2 hours 34 mins, this makes a day trip to Sheffield entirely possible.
Tip 3
Get refunded for any delay
Don't let a late train spoil your day, claim a refund with Delay Repay if your train is delayed. You may be entitled to a full or partial refund for your journey on trains departing as little as 15 mins late. The refund policy differs between companies, check with the operator and claim your refund through them.
The area surrounding Sheffield is known for its natural beauty, it boasts more trees per person than anywhere else in Europe. The Peak District, perhaps the most beautiful National Park in the north of England, gives access to some very scenic walks. You can travel to the picturesque areas of Matlock or Grindleford for lunch, or to Edale to complete the famous Mam Tor circular walk with its breathtaking views.
Tip 4
Avoid travel at peak times
Travelling during peak hours can be expensive, especially to popular destinations. Cheap train tickets can be found on weekdays and during off-peak hours. Peak times typically run in the early morning and early evening, look for tickets outside these times to get a bargain.
Known initially as SFC and founded in 1857, Sheffield founded the oldest football club in the world. Now split into two clubs, Wednesday and United, a buzzing culture of football can be felt on any match day. Buses and trams can take you from the city to Sheffield Wednesday's ground Hillsborough in 30 mins. Bramall Lane where Sheffield United play is a 20-minute walk from the city centre.
Tip 5
Use Groupsave discount.
You can save up to 1/3 on train tickets when booking as a group of 3-9 adults during off-peak hours. Groupsave discount is applied automatically, it is worth collecting with e-Tickets to avoid giving out many paper tickets.
Take a trip to the theatres and galleries in Sheffield, at only ten mins walk from the centre there are two major theatres The Crucible and The Lyceum. Both venues have entertainment featuring homegrown talent and the World Snooker Championships. There is Graves Gallery, one of three museums around the corner, with famous artists such as Cezanne, Turner and Damien Hirst on display.
Tip 6
Compare ticket types
If you are taking a round trip, it is worth comparing two single tickets against a return. At SplitMyFare we automatically check for you, showing you the cheapest combination of tickets.
Ecclesall Road is an excellent place for a night out. Home to many students, it is a vibrant and fun spot with drinking and dancing in its pubs and restaurants. There are crowds of people sunbathing in the Botanical Gardens nearby, a perfect place for a peaceful stroll or a spot of tea in warmer weather. Listed by English Heritage as a historical and archaeological interest site with open-air theatre productions, it's a 30-minute walk from the station.
Tip 7
Take a slower train.
Cheap train tickets can be found by booking a less direct or slower train. We will always show you slower trains if they are more affordable, though if you prefer to only see the fastest trains you can select to do so.
Only five minutes from Sheffield Station are the Millenium Galleries. Part museum, part art gallery, it is a unique cultural visit in which you can learn about the area's history whilst exploring new craft and design exhibitions. You can get a bottle of the famous Henderson's relish at the gift shop, only available in South Yorkshire and delicious on a Sunday roast.
Tip 8
Don't forget first class.
When first-class tickets are in low demand, prices may be lower than for standard class, saving you money on your train tickets. You can enjoy first-class facilities of free food and drink and comfier seats whilst getting a cheap train to Sheffield.
A spectacle of urban beauty, the Winter Garden is an unmissable attraction. Built in 2003, it is a large temperate glasshouse housing over 2,500 plant species worldwide, alongside cafés serving light refreshments.
Tip 9
Grab yourself a Railcard.
A great way to get cheap train tickets to Sheffield is to buy a railcard, most give 1/3 off your train fare. Other benefits include free entry to attractions and discounts on eating out and going to the theatre. Most Railcards are on sale for £30.
The Two Together Railcard gives two adults travelling together a saving of 1/3 on their journey.
The Family and Friends Railcard offers a 60% discount on children's train tickets and 1/3 off adult tickets for up to four children and four adults.
The Senior railcard offers 1/3 off of tickets for passengers over 60, at the reduced cost of £70 for three years.
The Disabled Person's Railcard gives disabled passengers 1/3 off their journey for a fee of £30.
Other Railcards available include the 16-25, 26-30, and Network railcard. For more information visit the Railcard website, you can buy Railcards from any National Rail Ticket Office.
For shopaholics, there are some great spots to indulge in retail therapy. The city centre, a 10-minute walk from the station has undergone significant redevelopment in the last few years. The Moor and Fargate are the two main shopping precincts. If you prefer independent shops, head to the Devonshire Quarter, which has award-winning vintage boutiques. There are plenty of friendly local pubs in the area to go for a drink, such as The Devonshire Cat and The Green Room.
Tip 10
Be flexible with your travel.
To get cheap trains to Sheffield, be flexible about the date and time of your travel. By travelling on a weekday or taking a later train, you can save money.
The Arctic Monkeys, Pulp and Human League all come from Sheffield, the area is a hub for music lovers. At the O2 Academy and The Leadmill, there are gigs for all music tastes, along with comedy shows and poetry evenings. Yellow Arch Studios is a smaller, more intimate venue located in Kelham Island.
Frequently Asked Questions
What is the name of the station?
Formerly known as Pond Street and later Sheffield Midland, the main terminus is now named Sheffield Station, and is one of the busiest in South Yorkshire. The main terminal is a combined railway and tram stop - directly opposite you will see the Hallam University stop, where you can access the outer areas of town.
How do I get to Sheffield?
The city can be reached from East Midlands airport by travelling on the airport shuttle to Parkway. From here you can buy a train ticket to Sheffield train station and travel straight to the city centre.