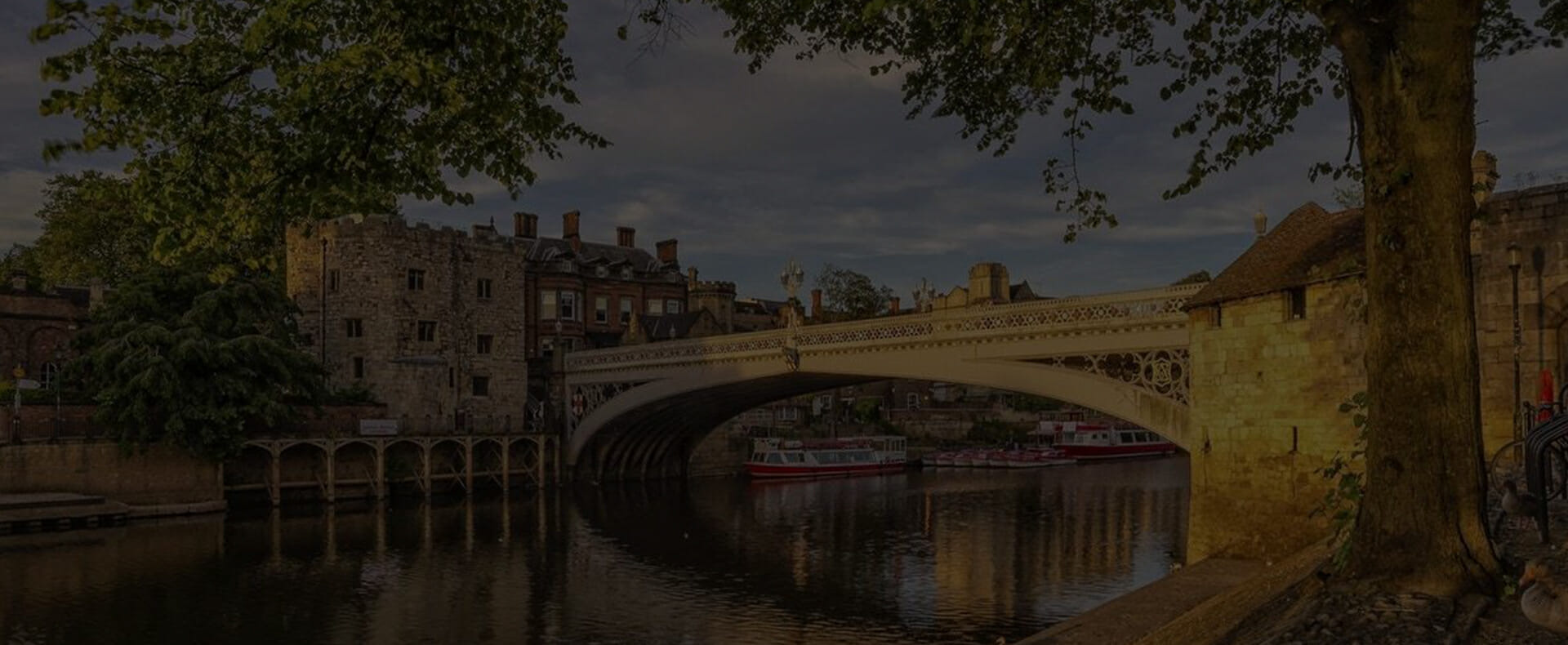 Cheap Train Tickets to York
Get the best ticket prices to York with our split ticket search
Half-Roman, half Viking this city has a wealth of attractions, it is one of England's favourite tourist destinations. York is perfectly situated 2 hours from London and 2.5 hours from Edinburgh, it is the perfect place for a long weekend. The famous indie shops of The Shambles with 14th-century houses that loom over your head are worth visiting. The famous York Minster is one of the largest of its kind in Europe. The town's restaurants with local produce from the surrounding area are brilliant for young families or groups of friends.
Tip 1
Cheap fares can be bought in advance
Cheap
UK train tickets
to York are made available up to 12 weeks ahead of travel. If you can't book early, you can get advance fares up to an hour before travel though they often sell out quickly. Book early to ensure you make savings.
Tip 2
Don't pay booking fees
Some retailers charge booking fees for ever journey you make with them, thetrainline charges up to £1.50 per booking. At SplitMyFare we don't charge booking fees, only if you find a split ticket will we deduct 10% of the saving made. If you don't find a split ticket, you won't have to pay a fee.
York train station is enormous, it links to several train stations in Yorkshire and has a fast, regular service to London; the station is a short walk from the centre. It takes around 2 hours to reach York from London Kings Cross, a day trip is easily possible. Most of the city is pre-industrial, beautiful gothic structures are covering a narrow maze of cobblestone streets.
Tip 3
Make use of Delay Repay
If your train to York is delayed, you may be eligible to claim a partial or full refund on your booking. Usually, you can get compensation on any delay over 15 minutes, this is dependent on the policy of the operator you are travelling with. Apply for the refund directly through the company you travel with.
York National Railway Museum is a great place to spend your day if you've got kids who like trains. If you're looking for a nice night out, go to the Theatre Royal to watch a play.
Tip 4
Peak hours are the most expensive
The cheapest train tickets to York are available outside peak times. Try to avoid travelling at weekends and holiday times to save money. We recommend travelling from late morning to late afternoon on a weekday to get the cheapest fares.
The York National Railway Museum is the largest of its kind in the world housing over 100 locomotives. It is a minute's stroll from York station and includes carriages used by the royal family.
Tip 5
Book together when travelling as a group
Groupsave discount is available for 3 to 9 people during off-peak times if they book and travel together. This is a great way to get cheap train tickets to York with a saving of 1/3 available. The discount is applied automatically; it is worth collecting e-Tickets to avoid mu ltiple paper tickets.
The Jorvik Viking Centre is a great attraction that's fun for children and adults, it gives a glimpse of the day to day living of a Viking invader. Not far from the centre are the York walls, a walk along these beautiful walls surrounding York can be done in an hour.
Top York Tours and Attractions
Tip 6
Check the price of singles and returns
If you are going on a round trip to York we recommend comparing the price of a return ticket with two singles. We automatically search for and show you the cheapest combination of fares.
York has a vibrant independent food scene with a lot of variety. There are over 300 pubs in York, our favourite is The Hop, for dinner and dancing.
Tip 7
Take slower trains
York is well served by rail, if you don't mind taking slightly longer on your journey, take a less direct or local line. This can work out cheaper if slower trains make you a saving we'll automatically show you these. If you are in a rush, you can select to only see faster trains.
York's Chocolate Story is perfect for a romantic trip, or with kids. Take a tour of the history of chocolate, showing the journey from bean to bar, with the opportunity to make your own personalised chocolate.
Tip 8
Compare the price of standard and first-class fares
Rail companies often cut the cost of first-class travel when demand is low, travelling first-class can be close in price or cheaper than a standard fare. You get free food and drinks, with a bit more space to stretch out.
The Shambles was the inspiration for J.K. Rowling's Diagon Alley in Harry Potter, it's easy to see why when you spot the overhanging 14th-century shops, cafes and antique stores. The Potions Cauldronis a mix your own "potions" apothecary store that offers specially concocted drinks including "Basilisk Blood".
Tip 9
If you travel regularly, get a Railcard
Railcards give you 1/3 off your journey plus additional benefits like free entry to attractions & retail discounts.
Most railcards cost £30; the Two Together Railcard gives 1/3 off most trains for 2 people.
The Family and Friends Railcard offers 60% off children's fares and 1/3 off adult fares for up to four kids and four adults.
The senior railcard gives 1/3 off at a reduced cost of £70 for three years.
Disabled passengers can get discounts on their trains with the Disabled Person's Railcard, £30 a year with 1/3 off travel tickets.
Other Railcards include the Network, 16-25, and 26-30 Railcard.
You can find more information on the Railcard website, cards can be bought from any National Rail Ticket Office.
Another way to see York is by boat, sightseeing cruises run up the Ouse river regularly, leaving the riverside every hour. Checkout City Cruises York for more details.
Tip 10
Be flexible
Our booking engine helps you find the best dates to travel, bylooking at alternative days and times to save money.
Frequently Asked Questions
How do I get cheap train tickets to York?
You can get cheap train tickets to York by splitting your ticket with us, savings of up to 90% are available.
Can you get a train to York?
You can get a train to York from many destinations. Trains from Manchester are 1h15m and you can get there in just 23 minutes from Leeds.
What trains go to York?
The train that goes to York from London is ran by LNER and arrives at York Station in just over 2 hrs.
Can you get a train to York?
If you are looking to take a train to York from Leeds, it will take only 23 minutes from Leeds. If you are travelling from Manchester to York, it is just a 15-minute journey.