King's Cross Station is in the Borough of Camden in Central London. Many famous landmarks are on its doorstep, including The British Library, The British Museum, and Camden Market.
London King's Cross Train Station is the 10th busiest station in the UK and the 9th busiest station in London, with 32.5 million exits and entries in 2019-20.
London Kings Cross Station was opened in 1852 by the Great Northern Railway for services on the East Coast Main Line. The station was expanded before London North Eastern Railway took over ownership in 1923. The area, Kings Cross, got its name from the statue of King George IV on the crossroads outside London Kings Cross Station.
Starting in 2007, £500 million was spent restoring London Kings Cross Station, with work on the original arched train shed roof and removing the extension at the front of the station. The station was then closed from January to March 2020 as £237 million was spent on remodelling the station, with the closure of Platform 10 and reopening the third tunnel.
Services from London Kings Cross Train Station run across the country, mainly on the east coast. London North Eastern Railway operate regular trains to major cities, including Edinburgh, Newcastle, and Leeds. Thameslink trains journey to Cambridge, while Hull Trains operates services directly to Hull.
Station Area Map
London King's Cross Station is situated in the North West of Central London, in the borough of Camden. St Pancras International Station is just a short walk away. Both mainline stations are connected by King's Cross St. Pancras Underground Station. Madame Tussaud's, The Regent's Park, and London Zoo are all within walking distance of London Kings Cross; plenty of shops and restaurants nearby.
The East Coast Main Line runs from King's Cross Station with inter-city services along the coast to cities including Edinburgh, Newcastle, and York, operated by London North Eastern Railway. Five train operating companies run services from London King's Cross. Grand Central runs trains on the East Coast Main Line to Bradford, Sunderland, and Doncaster, among other destinations, while Hull Trains runs services directly to Hull.
Station Details and Facilities
Address
London Kings Cross Station, Euston Road, London, Greater London N1 9AL
General Information
Station Opening Hours:
Monday – Friday: 05:00 – 01:40
Saturday: 05:00 – 01:11
Sunday: 05:30 – 01:36
General station enquiries: 03457 114141
Ticket Buying and Collection
You can book cheap train tickets to London with Split My Fare. You will have the option to receive e-Tickets via email or collect your tickets from the self-service ticket machines at London Kings Cross Station. Any queries can be answered at the ticket office.
Passenger services
There is a Rail Information Point in the centre of the main concourse where you can ask for help.
The Left Luggage Office to store baggage is on the main concourse and is open Monday - Sunday 07:00 - 23:00.
The Lost Property Office is situated on the western concourse adjacent to Platforms 9 - 11 and is open Monday - Friday 09:00 - 17:30.
Station Facilities
ATMs: There are several ATMs on the main concourse.
Telephones: Available near the Euston Road entrance of King's Cross Station.
Food & Drink: Coffee Shops, Coffee Kiosks, a Pub, and several food outlets.
Shops: Inside King's Cross Station, there is a Newsagent, Flower Stall, Shoe Repair shop, Pharmacy, small Supermarket, and a Photo Booth.
Baby Changing Facilities: Located inside the toilets by the entrance to Platforms 9 - 11.
Tourist Information Office: In the Transport Information Centre.
Showers: By the entrance to platforms 9-11, open Monday to Sunday 07:00 – 21:00, £5 cost.
Accessibility
There is step-free access to all platforms, with Lifts between the concourse, mezzanine, and London Underground ticket hall.
Assistance staff have access to wheelchairs for use around London Kings Cross station.
Accessible toilets can be found by the entrance to platforms 9-11.
There are 3 Blue Badge parking spaces in the Pancras Road car park.
There are ramps available for access to trains.
Ticket office
In the main concourse opposite the shops
Opening Hours
Monday - Friday 05:00 - 01:36
Saturday 05:00 - 00:36
Sunday 05:30 - 01:36
The station will remain open until the last train departs.
Toilets
By the entrance to platforms 9-11
On the mezzanine, behind the escalators and lift
WiFi
Free public WiFi is available.
Parking
The nearest car park is at St Pancras International Station, which is opposite King's Cross.
Bicycle Facilities
Cycle parking can be found on Platform 9, Platform 8, and Platforms 0-1.
There are also bike racks in the car park behind St Pancras.
First Class Lounge
Next to Waitrose.
Some LNER tickets are accepted; check before travel.
Facilities: Toilets/TV/Air charge for mobile phones
Refreshments: Complimentary selection of hot and cold drinks and light snacks available
Wi-Fi: Yes
Showers: No
London Kings Cross Tube Map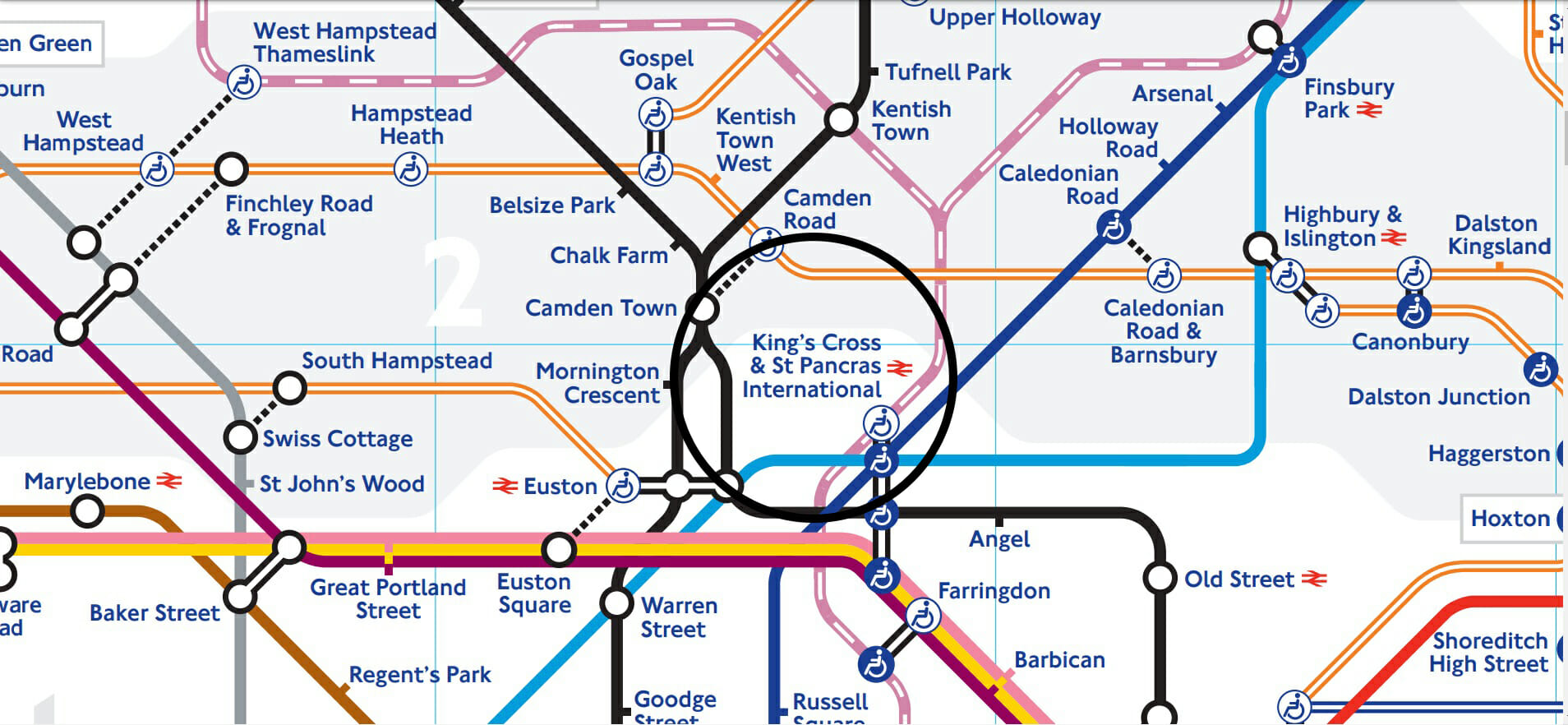 Frequently Asked Questions
Is London Kings Cross the same as St Pancras?
London Kings Cross and St Pancras are not the same stations but they are situated opposite each other, separated by a road. The two stations share an underground station, King's Cross St Pancras.
Where was King's Cross station filmed in Harry Potter?
St Pancras Renaissance Hotel was used as the entrance to King's Cross station in the Harry Potter films. There is a Platform 9 3/4 at King's Cross Station, as this is where Hogwarts students got the train from.
What line is London Kings Cross on?
London King's Cross is on the East Coast Mainline, with trains running to Cambridge, Leeds, Edinburgh, and Newcastle.
What tube station is Kings Cross?
King's Cross is connected to King's Cross St Pancras tube station. The station is on the Circle Line, Metropolitan Line, Hammersmith & City Line, and Victoria Line.
What is Kings Cross station famous for?
Kings Cross station is most famous for its appearance in the Harry Potter books and films, with students leaving for Hogwarts from Platform 9 3/4.
Why was Kings Cross station built?
Kings Cross Station was originally built in 1851-52 as the London terminus of the Great Northern Railway.