Thameslink runs a 24 hour service of commuter and regional trains, with all lines going through Central London. The operator is owned by Govia Thameslink Railway, with a fleet of 115 trains, which call at 115 stations.
With overcrowding having been a big problem for Thameslink, upgrades to accommodate more frequent and longer trains were completed in 2019, at the cost of £5.5 billion.
Thameslink Train Map
Thameslink services operate across the South East of England, with all lines running through Central London. Regular routes visit the major cities of Peterborough, Cambridge, and Brighton. Use our train map to plan your trip and then book your tickets through us.
Thameslink travels to stations across Central London, wherever you need to commute to, you can easily reach your destination. Should you be looking to take the train abroad, trains regularly stop at St. Pancras International.
Click on the Image and Zoom In to have a better view...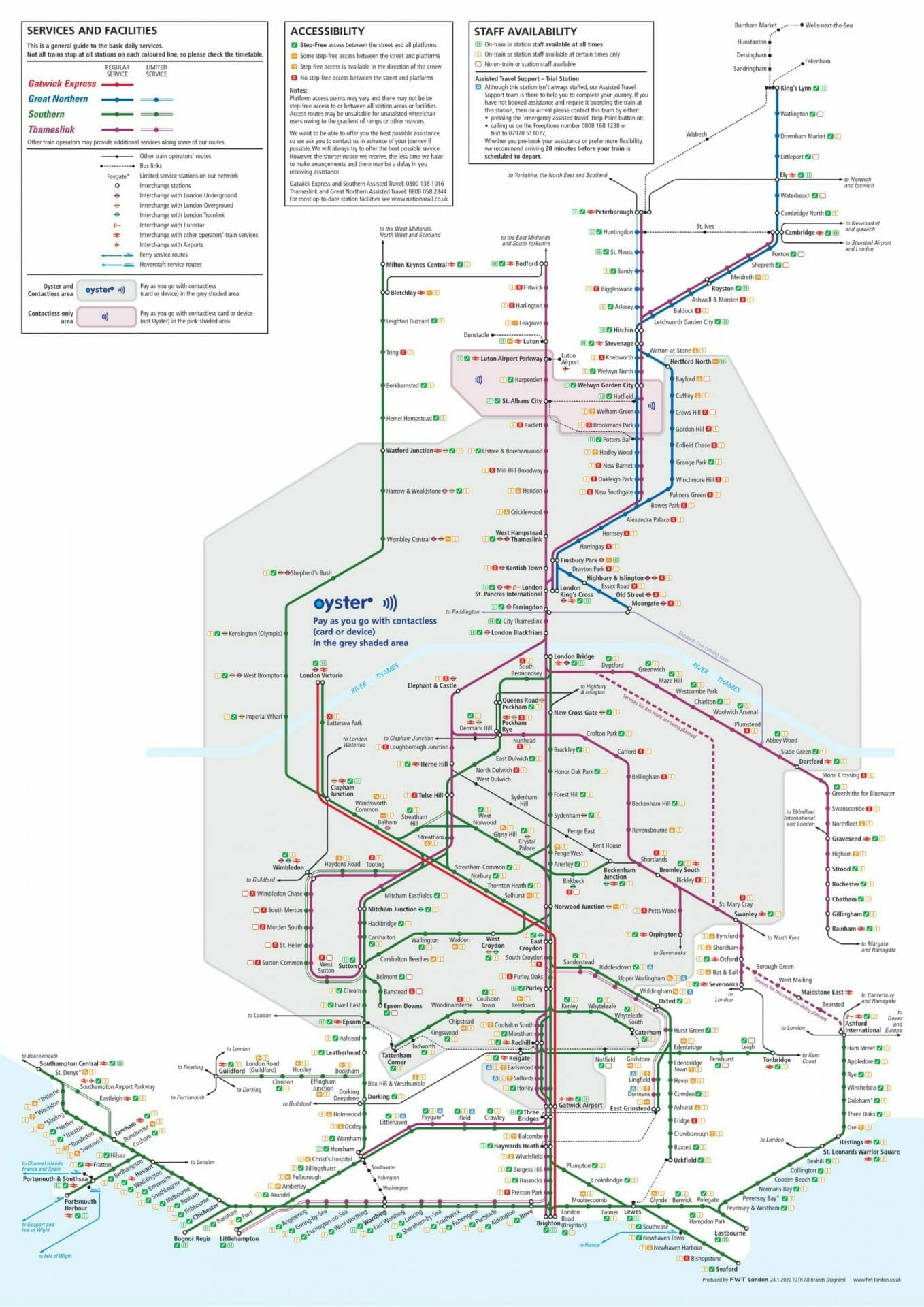 Source: Thameslink Network Map
Thameslink Customer Relations
Service Disruptions
Bad weather or engineering works may, unfortunately, disrupt your journey. It is worth checking on the status of your train before you leave for the station.

You can check for updates on your Thameslink journey by visiting their service update page.
Delay Repay
Should there be any delay to your Thameslink journey, you may be entitled to compensation as follows:
15-29 delay: 25% of the cost of a single journey

30-59 minutes delay: 50% of the cost of a single journey

60-119 minutes delay: 100% of the cost of a single journey

120+ minutes delay: 100% of the cost of a return journey (a full day's travel)
Frequently Asked Questions
Where does the Thameslink train stop?
Thameslink trains stop at 115 stations, including the major cities of Peterborough, Cambridge, Brighton and London.
What is a Thameslink train?
Thameslink use 700 Desiro City trains, which travel at speeds of up to 100mph. They run 24 hours a day, stopping at 115 stations.
Do Thameslink trains have plugs?
There are plug sockets in first class on Thameslink trains. You can sit here, even with a standard class ticket.