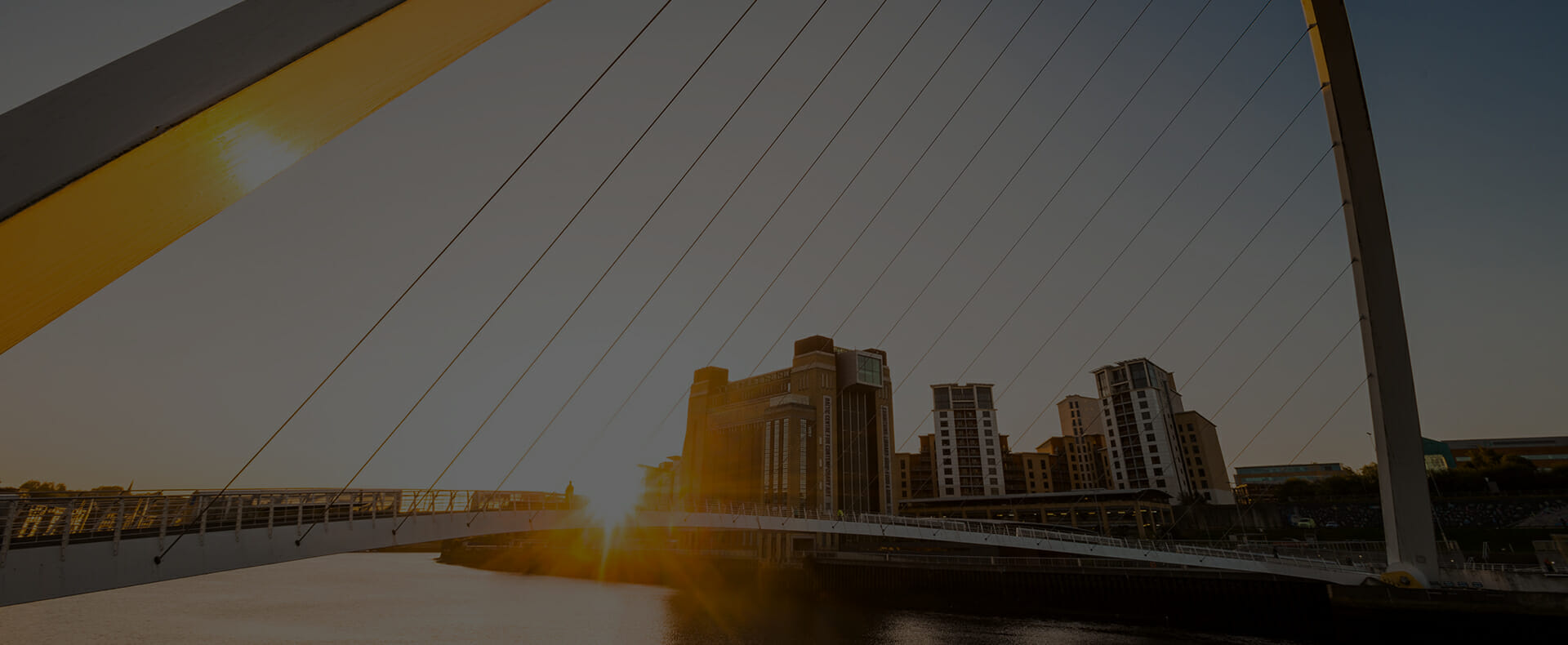 Cheap Train Tickets to Newcastle
Get the cheapest fares to Newcastle with our split ticket search
Cheap Trains to Newcastle
"Its party reputation is still well-deserved, but Newcastle is more than just a night out, it's a breeding ground for avant-garde art and cutting edge culture too." TNT Magazine
Tip 1
Buy an advance fare
We recommend booking book your train in advance to get cheap train tickets to Newcastle. Operators offer advance tickets up to 12 weeks before the travel date; demand for these fares is high, so book as early as possible. If you can't book until the last minute, it is sometimes possible to buy these advance fares up to an hour before departure.
When you travel to Newcastle, you can enjoy the vibrant nightlife, amazing architecture, or the beautiful countryside. You might want to take in a match at St James' Park, enjoy an interesting visit to The Baltic or watch a play at the Theatre Royal. Newcastle is a great destination with some of the UK's best attractions, ideal for families and groups of friends; with beaches and hills easily accessible.
Tip 2
Ditch booking fees
Other retailers charge booking fees on their tickets. At Split My Fare, we don't charge booking or credit card fees. If we can save you money by splitting your ticket, we only take 10% of the saving you make.
Tip 3
Don't travel at peak times
When searching for
cheap train fares
, it is best to avoid popular routes at peak times. Ticket prices are based on demand, also try to avoid weekends and holidays to get the cheapest tickets.
Tip 4
Take advantage of Groupsave
Newcastle is a popular destination for groups from all over the UK. The best way to get train tickets to Newcastle as a group is to travel and book together during off-peak hours. You can get up to 1/3 off for a group of 3-9 people with Groupsave Discount. With Split My Fare the discount is automatically applied; you can avoid having the many paper tickets of split ticketing by collecting with e-Ticket and forwarding these to your group.
The Discovery Museum is worth a visit if you've got kids. The Castle Keep is an exciting attraction if you're keen on history.
Newcastle is renowned all over the UK for its vibrant nightlife scene, thanks in part to the more than 40,000 students who live there. Filled with great bars and restaurants, Newcastle is a great destination for a long weekend, with regular trains coming here from major UK cities.
Tip 5
Check the difference in price between single and return tickets
It is worth comparing the difference in price between single and return train tickets when making a round trip to
Newcastle train station
. It can often be the case that two single tickets are cheaper than a return. At Split My Fare we look for the best deal and sell you whichever tickets are cheapest.
Tip 6
Travel using slower trains
You may be able to get cheap train tickets to Newcastle if you aren't in too much of a hurry. You can save money by travelling on slower trains on less direct routes. Our site will automatically show you slower trains if they work out cheaper If you're in a rush, you can select to only see the fastest trains on our site.
The fastest way to get to Newcastle is by train. From London King's Cross, Newcastle is only three hours away; if you're coming from Edinburgh Waverley, the journey is one and a half hours. Take advantage of the brilliant local metro system; a day-rider pass can take you across the city for a meagre cost; services extend all the way to the coast and airport.
Allow at least a couple of days to explore Newcastle and the surrounding area. You can walk along the Quayside and see the many famous bridges that cross the River Tyne. Gateshead is home to the Sage concert venue and the Baltic Centre for Contemporary Art. The Baltic showcases the work and installations of some of the best contemporary artists in the world; the complex has a performance space, cinema, bar, and a rooftop restaurant.
Top Newcastle Tours and Attractions
Tip 7
Standard tickets might not always be cheapest
First class tickets are sometimes similarly price to standard fares as prices are based on demand. If few first class tickets have been sold, rail companies reduce the price. First class tickets to Newcastle also get you complimentary food and drink and bigger seats with extra comfort.
Tip 8
Railcards can save you money
You can get up to 1/3 off your train tickets to Newcastle with one of the many railcards on offer. Most cards cost £30 per year; you can purchase some for £70 for a 3 year period.
If you have a family or travel as a big group, use the Family & Friends card; this gives 1/3 off most adult fares, and children get 60% off. Up to four Adults and four Children can use this.
The Senior Railcard, available for those over 60, gives 1/3 off tickets and is slightly cheaper, with a 3-year card available for £70!
Disabled Passengers can purchase a Disabled Persons Railcard for just £20 a year, getting 1/3 off tickets.
Other Railcards available for passengers to use on their journey including the 16-25, 26-30, and Network Railcard.
The Ouseburn Valley in the east end of Newcastle is a hub for the arts and creative industries. The city also provides easy access to the beaches of Tynemouth and Whitley Bay on the coast.
Underneath the streets of Newcastle is the 2.5 miles long Victoria Tunnel, built in 1839 as a subterranean wagonway and used as a place for refuge during World War II. You can go on a two hour tour guiding you through the 700 metre tunnel.
Tip 9
Try to be flexible
Looking at different dates when you travel can make savings. Use our booking engine to find the cheapest tickets on various dates at different times.
Frequently Asked Questions
How do I get the cheapest tickets to Newcastle?
Check our tips above, but in general you want to book as early as possible, be as flexible as you can with your travel times and check the price of two singles versus a return. Check out our journey planner for more information.
Does Newcastle Airport have a train station?
Yes it has a metro stop that goes directly to the city centre at Newcastle train station arrivals, it takes just 25 minutes and is a one train journey. Train tickets are available from the Newcastle Airport metro stop itself - if you'll be travelling around the city we suggest getting a day rider.
Why are trains to Newcastle so expensive?
Train tickets in Newcastle are particularly expensive because the train network is privately owned. Despite the theory being privatised rail travel would reduce rail fares through competition, the truth is fares are the highest they have ever been thanks to profiteering from train companies. We have a few tips on how you can save on your tickets to Newcastle above.