Transport for Wales operates the Wales and Borders franchise. They took this over from Arriva Trains Wales in October 2018 and will run these services for 15 years.
The operator runs trains all across Wales and its borders; with regular services between local towns and larger cities. They operate at 247 stations in total.
Extensive improvements are due on Transport for Wales trains. There will be WiFi on more trains, increased Sunday services, and entirely new trains.
Transport for Wales Train Map
If you haven't decided where to travel with Transport for Wales, our train map can help. You could travel to the cities of Cardiff, Birmingham or Manchester. Alternatively, you can take local routes to Prestatyn and Rhyl.
If you fancy a long weekend, the seaside resorts of Llandudno and Colwyn Bay are easily reachable.
Click on the Image and Zoom In to have a better view...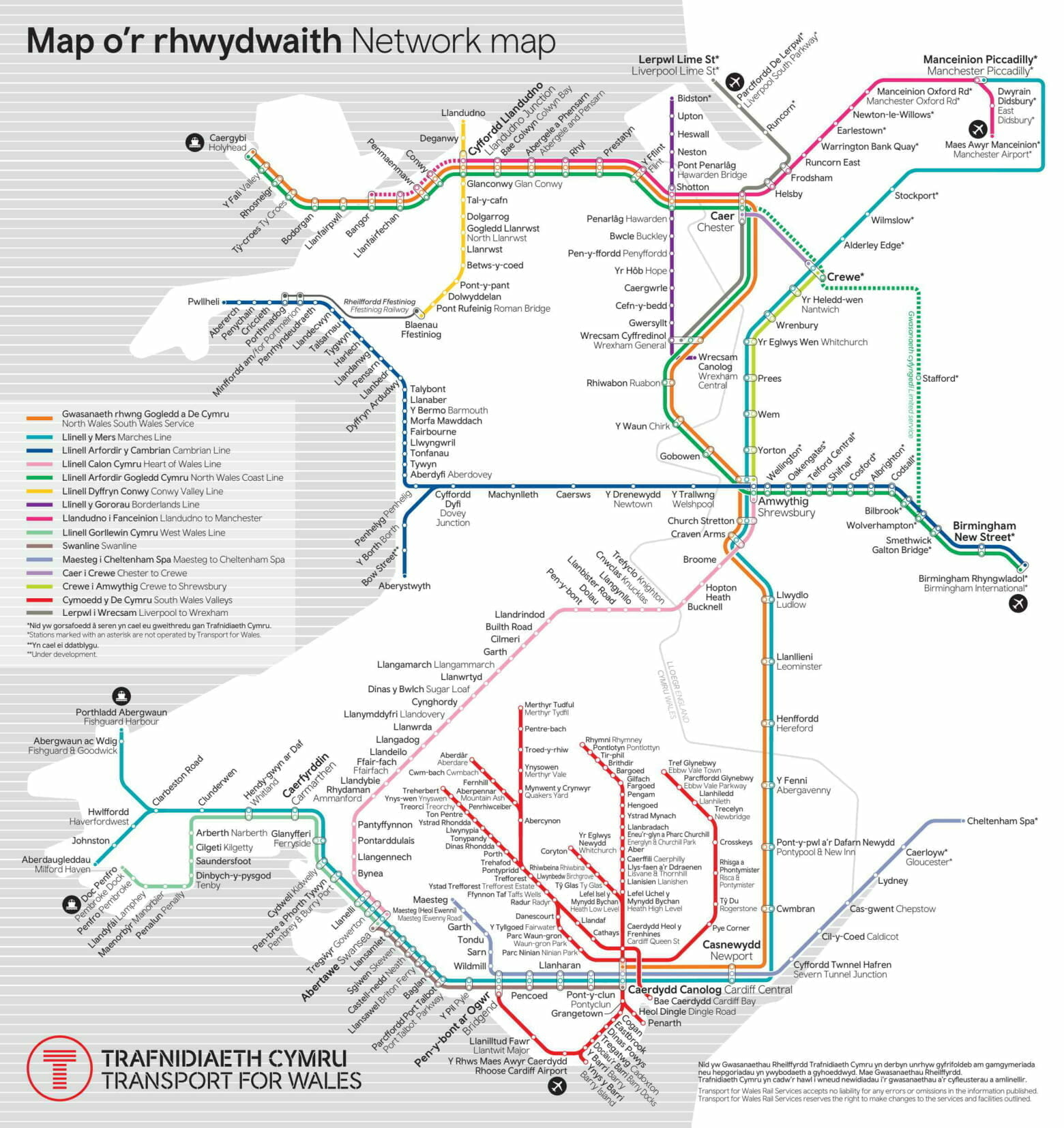 Source: Transport for Wales Network Map
Top Transport for Wales Destinations
Transport for Wales Customer Relations
Telephone: 0333 321 1202
0800 - 2000 Monday to Saturday and 1100 - 2000 on Sundays
WhatsApp 0779 095 2507
07:00 – 20:00 Monday to Friday 08:00-20:00 Saturday, and 11:00 – 20:00 on Sunday

Post: Freepost TFW RAIL CUSTOMER RELATIONS
Cycle Reservations: 0333 321 1202
Assisted Travel: 0333 005 0501 (0800 - 2200 every day, except Christmas Day)
Lost property: 0333 321 1202
Service Disruptions
Sometimes there can be disruptions to scheduled trains, for example, because of signal failures or technical faults.
You can keep up to date on your train's arrival time with the Transport For Wales journey checker.
Delay Repay
If your train is cancelled or doesn't run to time, you can get compensation with Delay Repay. Refunds are available if you arrive at your destination at least 15 minutes late.
You can make a claim on the Transport For Wales Delay Repay page.
Frequently Asked Questions
Who runs transport for wales?
Transport for Wales is owned by Keolis (60%) and Amey (40%) with the brand name owned by the Welsh government.
Can I take my bicycle on a train?
You can take your bicycle on a Transport For Wales train, though it is recommended to book at least 24 hours in advance, as spaces are available on a first come, first served basis.
What are Transport for Wales peak hours?
Transport for Wales peak hours run from the first train of the morning to 09:30, and then from 16:00 - 18:30.
Are dogs allowed on Transport for Wales trains?
Dogs are allowed on Transport for Wales trains, though there is a maximum of 2 per passenger and they must be kept on a lead or in a closed carrier, cage or basket.
Do Transport for Wales trains have WiFi?
Most Transport for Wales trains have WiFi and the company are in the process of installing WiFi for those trains that don't currently have it.
How much luggage can I take with me on Transport for Wales trains?
You can take up to three items of luggage on Transport for Wales trains, including two large items such as a suitcase and one smaller item, like a handbag.